In erosion-hit villages, students' future getting washed away
In some places, students, who have become homeless as the mighty river has gobbled up their houses, have left their villages and don't know if they would be able to continue with their studies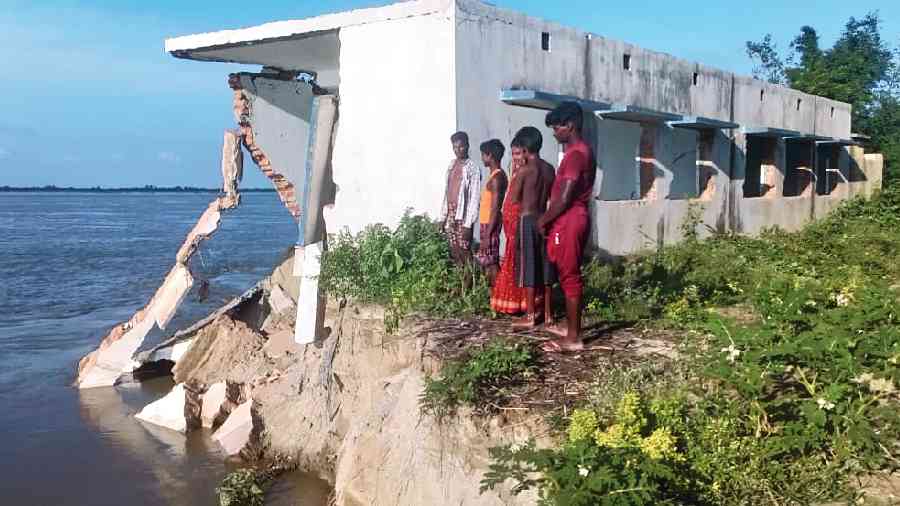 Erosion at Birnagar-I panchayat in Kaliachak- III block of Malda district.
File picture
---
Malda, Behrampore
|
Published 23.10.22, 12:14 AM
|
---
Steady erosion caused by the Ganga has led to a crisis for hundreds of youths on both banks of the river in the districts of Murshidabad and Malda.
In some places, students, who have become homeless as the mighty river has gobbled up their houses, have left their villages and don't know if they would be able to continue with their studies. In other places, a number of schools have become submerged in the Ganga or are in a precarious state.
In Maheshtala, a village located in Samsherganj of Murshidabad district and on the right bank of the river, around 160 families have lost their houses in recent times as the erosion has turned acute.
These families have at least 50 students who have left the village and are staying in flood shelters of neighbouring hamlets. Maheshtala is around 80km from Behrampore, the district headquarters.
Sujata Sarkar, a Class XI student of Dhulian Girls' High School, is one of them. These days, she is staying in the room of a primary school in Pratapganj, a neighbouring village, with her family.
"We had a four-room house in the village. The entire house, along with some land, has been eroded away by the Ganga. Here, we all are staying in one room and it is tough to study," she said.
Tipu, her father, is equally perplexed.
"I don't know if we will get any government aid. I need a small piece of land to build a hutment," he said.
The erosion has also barred students in many cases from private tuitions
In Maheshtala, Tapas Sarkar, a local youth, along with some friends, used to tutor students.
"They charged Rs 200 a month to guide us on all subjects. The tuition helped us a lot. But we no longer have the option as not only are we homeless, the building where the tutorial home ran has  also been gulped by the river," said Priyanka Sarkar, a teenager set to appear for Madhyamik next year and a Class X student of Sahebnagar High School.
"The erosion has not only left hundreds of people homeless but has put a question mark on the future of these students. They are spending nights in flood shelters. We don't know how many will eventually sit for the exams or continue with their studies," said Mohammad Enamuddin, headmaster of the school.
The fate of students on the left bank is no different.
In Malda district, the Ganga has eroded away a number of schools in blocks like Manikchak, Kaliachak-II and III in recent years.
"A number of primary schools have been gobbled up by the river. The existence of some schools is in peril as the Ganga is inching closer," said Ziaul Haque, a school teacher in Manikchak.
He said that many students are being forced to leave the villages  after losing their homes and those fortunate to have their homes intact don't know if the school buildings would survive for long.
"A comprehensive plan must be prepared by the state education department, in consultation with the district administration for students hit by erosion so that they can continue with their studies," said Shakti Patra, an academic based in Malda. 
Basanti Barman, the chairperson of the district primary school council in Malda, said they were aware of the problem.
"After vacations, we will seek reports from inspectors of schools to find out if there has been any rise in the number of dropouts. In such cases, steps would be taken to bring back such students to schools, she said.