Hunt for land to set up Calcutta's second airport in Bhangar
According to the Centre's guidelines, the second airport would have to be established on at least 4,000 acres so that all modern facilities could be put in place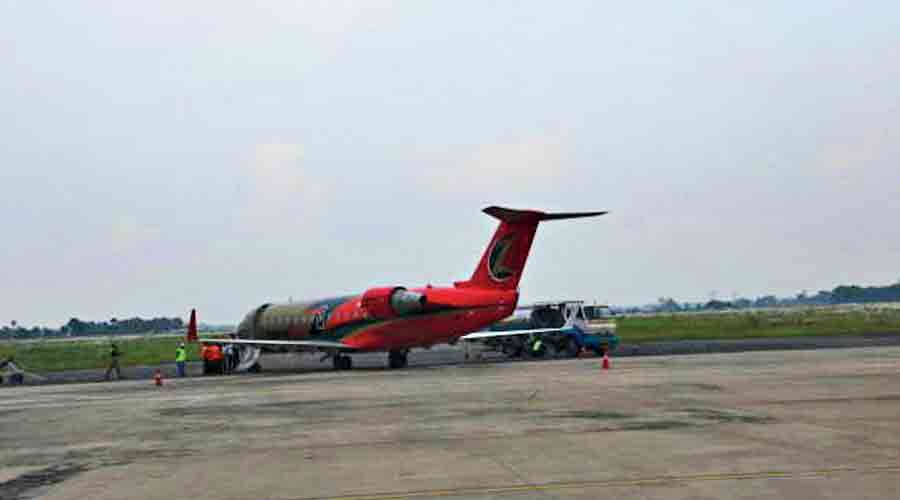 The Andal airport.
File photo.
---
Calcutta
|
Published 22.01.22, 12:59 AM
|
---
The Mamata Banerjee government has identified Bhangar 2 block in South 24-Parganas as the location to set up the second airport of Calcutta after the Centre rejected the state's proposal to declare Andal airport as the city's second aerodrome.
Sources at Nabanna said the Union government had rejected Bengal's proposal to declare the Andal Airport as Calcutta's second aerodrome, saying it is located around 190km from the city. "The Centre said it would not be convenient for passengers to catch another flight at Andal after landing at the existing airport at Dum Dum," said a source .
Bhangar is around 30km from Dum Dum. Sources said a senior land and land reforms officer had asked block-level officers to start basic work to find out whether plots would be available for the airport at Bhangar.
"The district authorities have been asked to submit a status report on the ground realities to Nabanna soon. Based on the status report, further steps would be initiated," said a Nabanna official.
According to the Centre's guidelines, the second airport would have to be established on at least 4,000 acres so that all modern facilities could be put in place. But the state is looking for 7,500 acres as it wants to create excess capacity in the future.
Although the state government has identified Bhangar as a potential spot for the new airport, getting such a huge tract of contiguous plots will be easier said than done considering the history of Bhangar, where a power grid project of the Power Grid Corporation faced land acquisition-related hurdles.
"The government did not acquire much land for the project, but local people put up resistance citing that high tension lines would cause trouble in the area. As the government has to buy or acquire more than 7,000 acres for the airport, it does not appear to be an easy task," said a source.
Sources in the administration said the government had already contacted the anti-land acquisition committee that had spearheaded the movement against the Power Grid Corporation project and convinced the panel that the airport would be beneficial for the local residents.
"The project would change the landscape of Bhangar and the government would give proper compensation to land losers," said a source.
A section of officials said some Trinamul Congress leaders in South 24-Parganas had already registered their reservations about the airport on the premise that the project would lead to a massive eviction of people.