Homeless after jumbo attacks
Samsher Ali, the farmer in his mid-50s, has no inkling as to when he would be able to return to his house that he says has been 'twice damaged' by elephants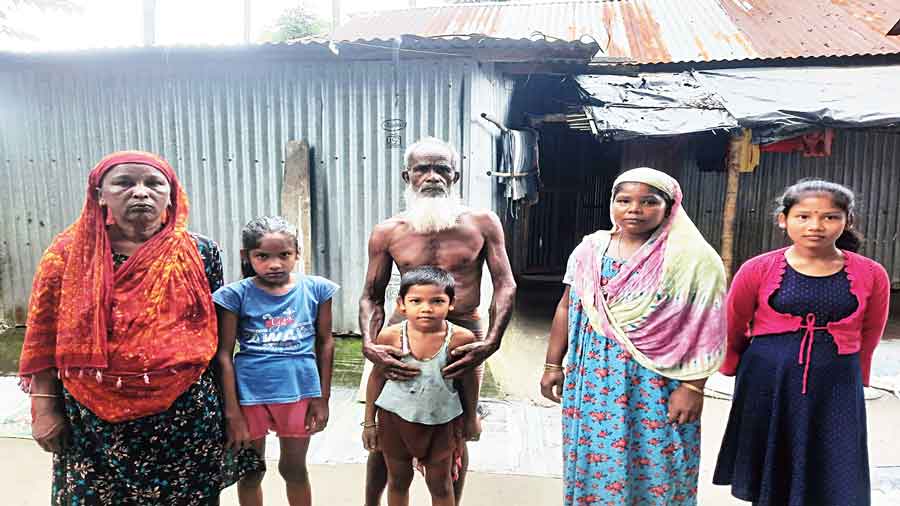 Samsher Ali with his family members at the house of the panchayat member in Mallickshova village.
Biplab Basak
---
Jalpaiguri
|
Published 28.08.22, 01:42 AM
|
---
A farmer and five members of his family are staying away from home  in a village in Dhupguri block of Jalpaiguri for over a month as wild elephants have damaged it.
Samsher Ali, the farmer in his mid-50s, has no inkling as to when he would be able to return to his house that he says has been "twice damaged" by elephants.A few months back, a herd of 12 to 14 elephants entered Mallickshova, Ali's village, from nearby Sonakhali forest, ransacked it in search of fodder and damaged his crops in the adjoining field.
Ali somehow managed to arrange funds for repair.On the night of July 21, another elephant herd  ransacked his house again.
"We managed to escape as the herd went on a rampage. Since then, the herd has been entering the village regularly, crossing my house at night. We didn't feel safe so we shifted to the house of Jabedul Islam, a panchayat member," said Ali.
Multiple sources said that over the past few weeks, elephant herds are entering in Mallickshova, Kalkhamba and some other villages, all located under Sakoajhora-II panchayat of Dhupguri block."We have informed the forest department. Farmers are facing losses as elephants are devouring crops. These people should be compensated and steps should be taken to curb such elephant attacks," said panchayat member Islam.
Ali, his wife Amina Khatun and children go home only during the day. They cook their meals, clean and do other daily chores and return to Islam's house as evening falls."We don't know when we can stay at home again. Foresters occasionally come and ward off elephants but we understand that they can't guard us every night," he said.
Ali is thinking of selling off his house and farmland."I feel like shifting elsewhere. But it will be tough to find a buyer as people here know about the problem." Senior forest officials said that when elephants enter human habitations, wildlife squads rush to the spot to steer them back to forests. In case of loss to life or property, there is a provision for compensation."However, round-the-clock monitoring of wild elephants is impossible. In this case (Ali's), we will see what can be done to reduce elephant depredation," said a forester.