Handicrafts on sale to fight gender-based violence
Fair chance for vulnerable women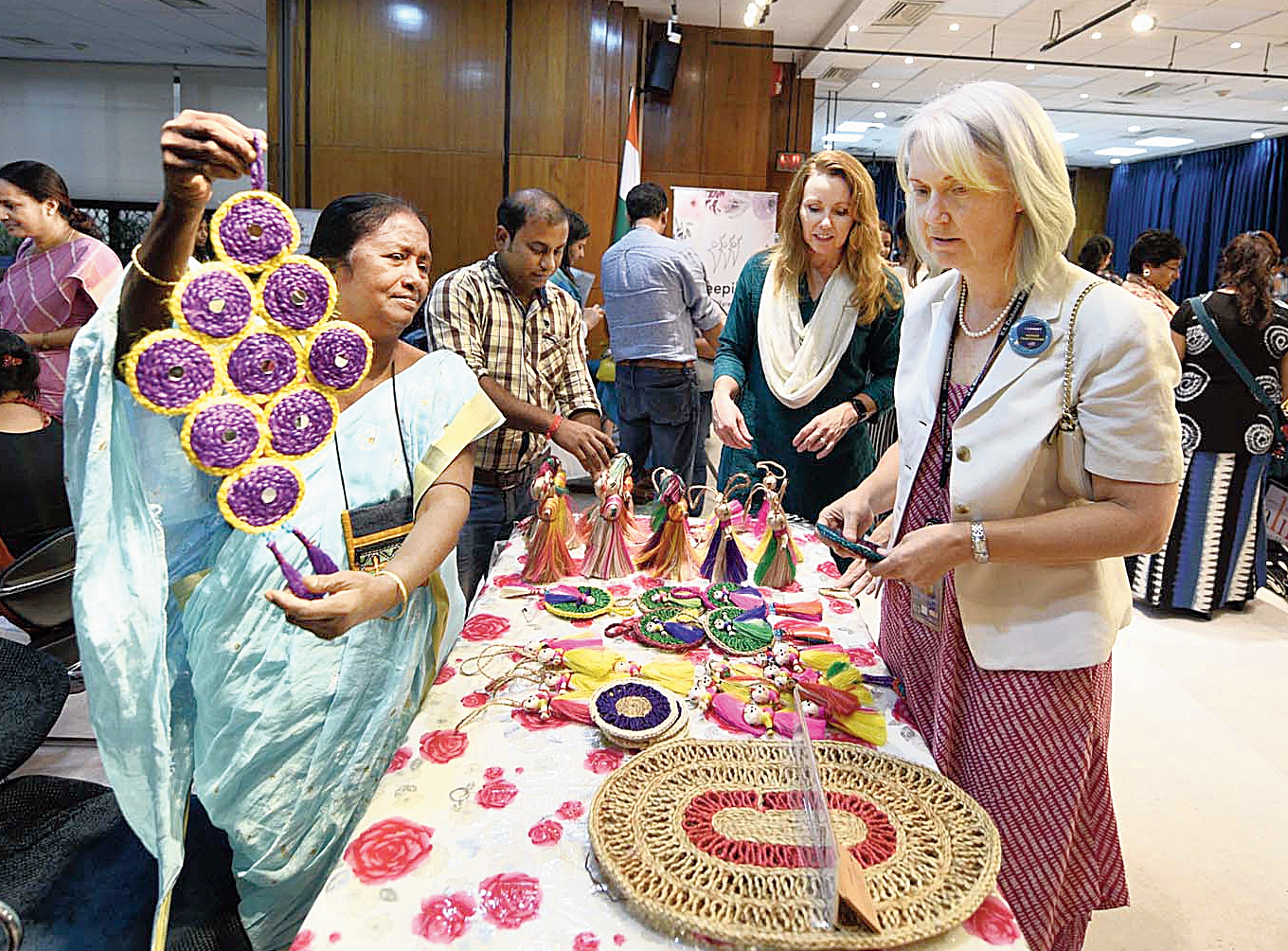 Rasina Bewa (in sari) shows a handicraft to US consul general Patti Hoffman (far right) at American Center on Friday.
Picture by Gautam Bose
---
Calcutta
|
Published 13.09.19, 09:32 PM
|
--- A 66-year-old woman from Murshidabad has been training village women for over a decade to make jute handicrafts in an attempt to empower them and make them financially independent.
Rasina Bewa was at a fair in the city on Friday, with bags, coasters and mats made by the girls of Durgapur village in Kandi block of Murshidabad, whom she trains for two hours twice a week.
"The women have to complete their household chores before they can come to me. Their fathers or husbands are daily wage labourers and my idea behind training these girls is to make them self-reliant so that they can earn a living, too," said Rasina. She was a participant at the Women's Empowerment Fair, in support of the fight to end human trafficking and gender-based violence, organised by the US consulate general in Calcutta at the American Center on Friday.
There was a time when even those two hours of training had seemed a struggle in the face of severe resistance from people. "The situation has since improved but has not yet changed completely. Even now women drop out and I have to visit their homes at times to bring them back," she said.
While Rasina works in a remote corner of Bengal, many organisations working in the city also face resistance from beneficiaries during training.
Tiljala SHED, which has been training women ragpickers how to make trinkets for the past six months, has had deal with dropouts. "The women feel that the time they are spending in training could be used to earn a little more. We have to convince them that this will help them earn in a more healthy manner," said Sultana Khatun, who trains them.
Rasina, also a wedding singer who strove to take the traditional Muslim art form beyond the village and use it to educate and empower women, had been inducted into
The Telegraph Hall of Fame at The Telegraph School Awards for Excellence 2013.
She had then gifted a jute doll to The Telegraph Education Foundation in 2013.
About 40 NGOs and social enterprises took part in Friday's fair where handicrafts made by trafficking and acid attack survivors and women from marginalised sections were on sale to fight human trafficking and gender violence.
Nayan Mitra, the founder director of Sustainable Advancements, said the organisation also trains vulnerable girls in the communities to make bags and other handicrafts so that they will not be trafficked.
"A lot of these NGOs, organisations do a lot of different work to support victims of trafficking and survivors and on education and
prevention methods and helping the women be economically independent and empowered as a way to reduce their vulnerability to trafficking in person. We are very happy to sponsor an event like this and raise awareness," US consul general Patti Hoffman said.
The exhibits included jewellery, bags, diaries, soaps, rugs and wooden dolls.
"We invite socially conscious consumers to join us today and buy the handicrafts and make a difference in the lives of vulnerable women and girls," said American Center director Monica Shie.