Graft finger at colleagues in Mamata's presence
Infighting in the Trinamul Congress tumbles out in the open during CM's Jhargram district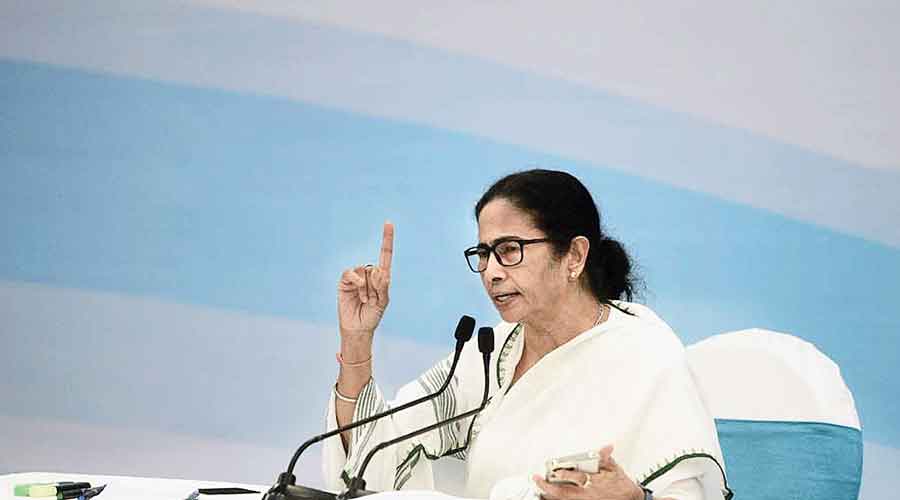 Mamata Banerjee
File picture
---
Tamluk(EastMidnapore), Siliguri
|
Published 19.05.22, 01:58 AM
|
---
The infighting in the Trinamul Congress tumbled out in the open during Jhargram district's administrative review meeting chaired by Mamata Banerjee on Wednesday when a zilla parishad member accused two of her colleagues of nepotism while awarding contracts.
However, it later appeared that the charge was an exaggeration.
The flow of the meeting suffered a jolt when Jhargram zilla parishad member Mamoni Murmu, who is in charge of the land department, accused two colleagues of awarding government projects to their "known ones" by manipulating the tender process.
"Subhra Mahato and Ujjal Dutta (both members of the uppermost rural body of Jhargram) manipulate the tendering process to ensure that works of PWD repeatedly go to their known persons…. This is leading to a delay in the execution of works," Murmu, who stood up midway through the meeting, told Mamata.
Murmu, Mahato and Dutta belong to Trinamul.
While Mahato is in charge of the PWD department, Dutta handles the public health engineering department at the zilla parishad.
Both were present at the meeting.
Soon, Mahato and Dutta came in Mamata's line of fire.
"Ar koto khabe? Ki khabe? (what more do you want)… you have a home, your children are having a decent lifestyle, you have a scooter or a car and enjoy two square meals. How much more do you want?" she told the duo.
The chief minister also asked the duo not to intimidate Murmu (the complainant). "I would get both of you arrested then...," roared Mamata.
Both Mahato and Dutta denied the charges and said the process of e-tendering was followed for any work taken up by the zilla parishad.
District magistrate Joyoshi Dasgupta seconded them and said all works were carried out through e-tender. Her clarification changed the course of the deliberations as Murmu got a taste of the chief minister's wrath.
"You want to say that the DM here is also corrupt? Why did you exaggerate the issue without having proper information? You are in charge of another department and have no business to interfere in the work of other departments.... Try to speak the truth from now on, instead of blowing up issues," she said.
Murmu's complaint to Mamata, a source said, was the fallout of a rift between Dulal Murmu, the Trinamul MLA of Nayagram — one of the Assembly seats of Jhargram district — and Ujjal Dutta, who is also from the same area.
"Mamoni Murmu is from Dulal's lobby, while Subhra is from Ujjal's lobby and they have been at odds for years.… Mamoni tried to settle score with them at the meeting," said a source.
Mamata time and again passed a message to elected representatives of Trinamul that they should maintain an austere lifestyle and refrain from collecting money from government projects.
"The state government has done a lot and no one has any complaint…. It is because of some of you who speak against each other that we have to face problems. Stop thinking of yourself and work together …. Ami noy amra (do not work for self but act together). I do not work for individual but collective interests and you should do it. Or else, you will face appropriate consequences," Mamata said on Wednesday.