Morcha pulls out of GTA agreement
BGPM with support of TMC, is sitting comfortably in hill politics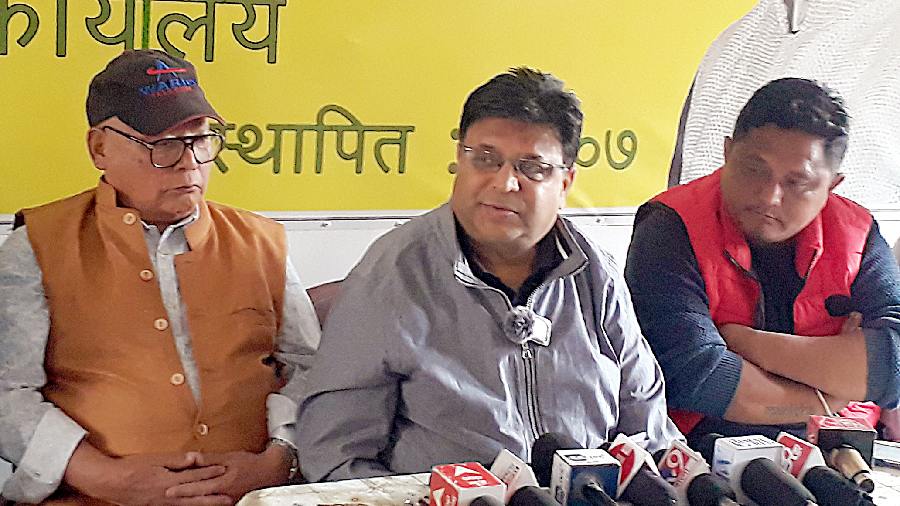 Morcha general secretary Roshan Giri addresses the media in Siliguri on Friday
Picture by Passang Yolmo
---
Darjeeling
|
Published 28.01.23, 03:26 AM
|
---
The Gorkha Janmukti Morcha on Friday withdrew from the memorandum of agreement (MoA) that paved the way for the creation of the Gorkhaland Territorial Administration.
Although the decision is unlikely to make much of a difference technically in the hills because of the Morcha's depleted support base, the move signalled a clear intention of the party to create ripples to break the status quo in the politics in the region.
Morcha's rival Bharatiya Gorkha Prajatantrik Morcha (BGPM), with the support of the Trinamul Congress, is sitting comfortably in hill politics after having won the GTA elections last year.
On Friday, Roshan Giri, the general secretary of the Morcha, said: "Taking into consideration the aspirations of the people of Darjeeling and Kalimpong,  Siliguri Terai and the Dooars region, I, on behalf of the Gorkha Janmukti Morcha and as one of the signatories of the MoA would hereby withdraw all support from this MoA."
While Giri was a signatory representing the Morcha, the state was represented by G.D. Gautam, the then home secretary, while K.K. Pathak, joint secretary, ministry of home affairs, had represented the Centre when the MoA was signed in the presence of Bengal chief minister Mamata Banerjee and then Union home minister P.Chidambaram at Pintail Village in Siliguri on July 18, 2011.
Following the MoA, an act was passed in the Assembly which was assented by the President of India.
On Friday, Giri wrote to the President of India, prime minister, home minister and chief minister of Bengal to "officially" apprise them of the party's decision.  The decision, however, was taken during a Gorkhaland national committee meeting held in Kalimpong on Monday.
"GTA can only be repealed if the act is repealed by a constitutional body. Also, Morcha does not enjoy the mandate in the GTA. Hence, the day's development is unlikely to make much of a difference, technically," opined a lawyer.
Even the Morcha seems to be aware of this fact.
Asked about the effect of the move, Giri said: "It is for the Centre and the state to understand."
The Morcha leader said that while they are "now against GTA" they would participate in the upcoming panchayat elections as it is a "constitutianal body."
The next big elections in the hills are the three tier panchayat election which is likely to be held in the hills after more than two decades. "If the GJM fares poorly in the upcoming rural polls, it will further slide down in hill politics," said an observer.
Giri also said: "The Center and state have not done anything for the Gorkhas. The BJP also has not done anything for the Gorkhas until now but they in power till 2024 and they have also promised a permanent political solution in their manifesto." 
Trinamul leader Gautam Deb dubbed Morcha's move as "a part of a bigger game plan drawn by the saffron camp".