Going the extra mile, with books and pills
Crisis brings out the best in some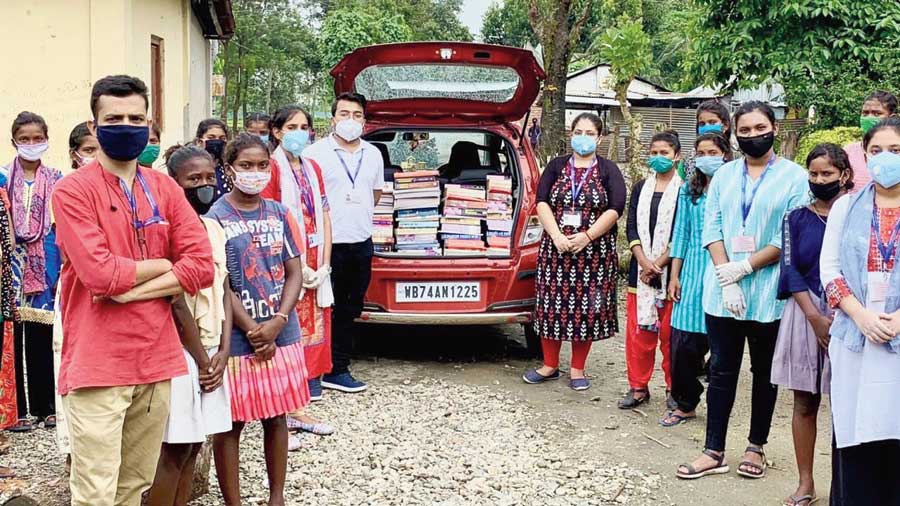 ---
---
Two young couples from Siliguri and Malda are literally going the extra mile amid the pandemic to bring education and healthcare to those who are economically disadvantaged.
In Siliguri, Anirban Nandy and wife Poulami Chaki Nandy, a researcher and a research assistant at IIT-Kharagpur, now at home because of the pandemic, regularly visit villages and tea gardens with books stacked in their car as a "mobile library".
In Malda, doctor couple Jahangir Alam and S.R. Nasrin host free health camps on their own in remote areas of the district. Alam, a child specialist, and Nasrin, a gynaecologist and obstetrician, are posted at Malda Medical College & Hospital (MMCH).
Anirban and Poulami, while doing a survey on development and economy in rural areas, came to know first-hand the problems of the poor amid the Covid lockdown.
Anirban said Poulami and he realised that education for the poor had taken a beating. "Poor students can't afford online classes with smartphone or laptop and Internet. So we launched a mobile library."
The couple approached friends and acquaintances for books and gathered over 6,000. "We piled books in our car and visited tea gardens and villages, asking students to keep the book they need for three months," said Poulami. So far, the couple said, they covered 30 villages and 16 tea gardens in north Bengal, and around 1,580 students are linked to their mobile library. Eighty per cent of them are girls, Poulami said.
Anirban added that he and his wife also introduced "Dosh Takar Tuition (tuition for Rs 10)" for English, computer, economics, geography, and political science. "Yes, we maintain social distancing during all of this," he added.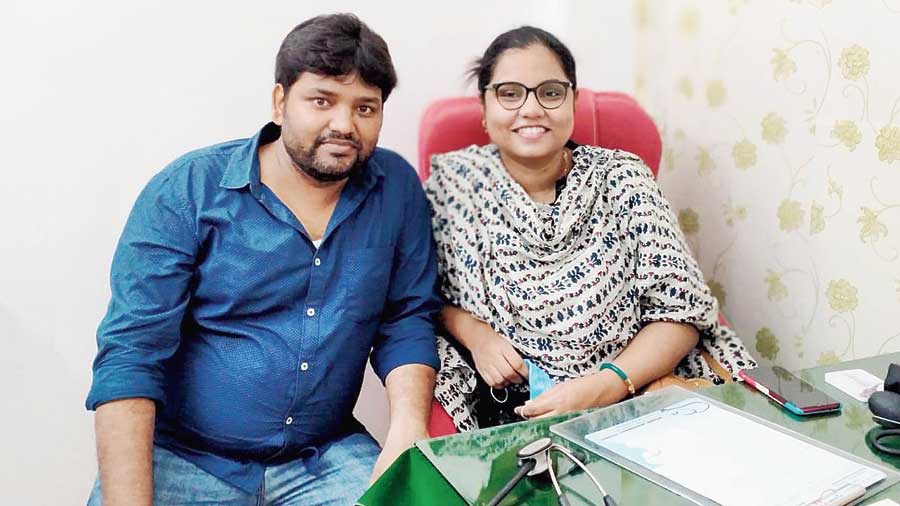 Malda's Alam and Nasrin also started free health camps for needy families during the pandemic for the same reason. "Healthcare for the poor gets hit the hardest when there's a crisis," said Alam.
So far, the couple has held over 25 free health check-up camps across the district.
"Brick kiln workers and bidi binders or rollers in Malda are very poor, and can't afford doctors' fees or medicines, Nasrin pointed out. "There are hundreds in Kaliachak I, II and III blocks. Their helplessness moved us," Alam said.
Alam said he was born in a village and had seen all his life how the poor face problems in accessing healthcare. "Covid-19 makes it worse. That is why we thought of organising medical camps for the poor, particularly now. We also make them aware of health safety protocols to help them avoid catching the coronavirus," said Alam.
Nasrin, who is from Rezinagar of Murshidabad, said she had faced poverty in her early life. "When Alam told me we should take some initiative to serve people with less or no money, I immediately agreed," she said.
He added that only he and his wife could not alone address the problem of healthcare for the very poor in Malda district. "We hope social organisations come forward for such camps, we will definitely serve at those camps," Alam said.
MMCH authorities have appreciated the efforts of Alam and Nasrin. "It is great to see that the two doctors, after doing their daily duty in these stressful days of the pandemic, are volunteering their services in villages," said Amit Dan, MMCH vice-principal.