Glare on Centre apathy in building parallel bridges in north Bengal
Movement of all vehicles barring two-wheelers has been halted for the past 3 days over the 50-year-old Balason river bridge, located on the northwest end of Siliguri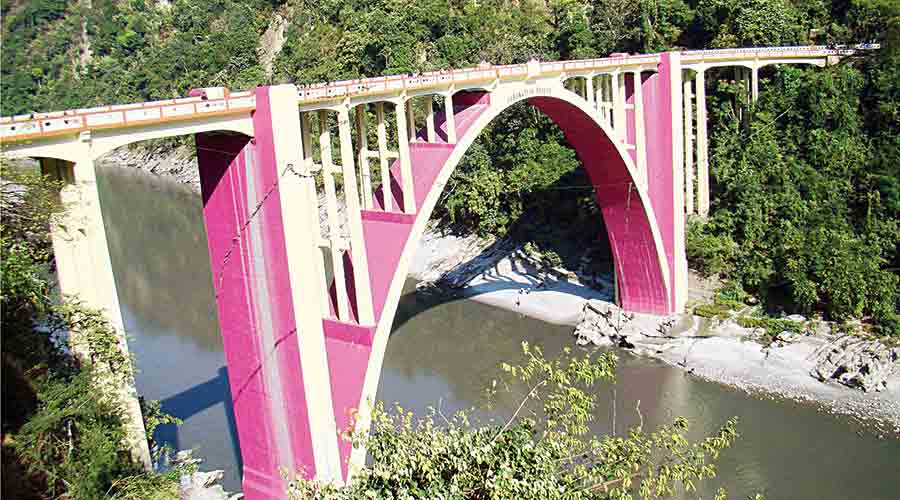 ---
Siliguri
|
Published 23.10.21, 01:19 AM
|
---
The precarious condition of two bridges along National Highway 31 — the Coronation Bridge at Sevoke and Balason river bridge — has raised questions over the Centre's alleged apathy in building parallel bridges which are required to keep connectivity intact in north Bengal following the damage to road infrastructure due to inclement weather in the region.
"These two bridges are in precarious condition for years. We have been hearing that the Centre would strengthen them and also construct new bridges running parallel to these.… But the promises have remained only on paper," said a prominent businessman of Siliguri, who did not wish to be named.
The 70-year-old Coronation Bridge at Sevoke (located around 20km from here), developed cracks almost 10 years back, prompting the state PWD to restrict movement of vehicles weighing beyond 10 tonnes. The bridge connects Siliguri with Dooars.
Now, movement of all vehicles barring two-wheelers has been halted for the past three days over the 50-year-old Balason river bridge, which is located on the northwest end of Siliguri, after one of its pillars bent with the force of the swollen river and a portion of the bridge's plank subsided.
"Both the bridges are on the national highway. Thus, the onus is on the central government (to repair them). We fail to understand why there has been such a delay in taking up these projects," said Soumen Nag, a social researcher based in Siliguri.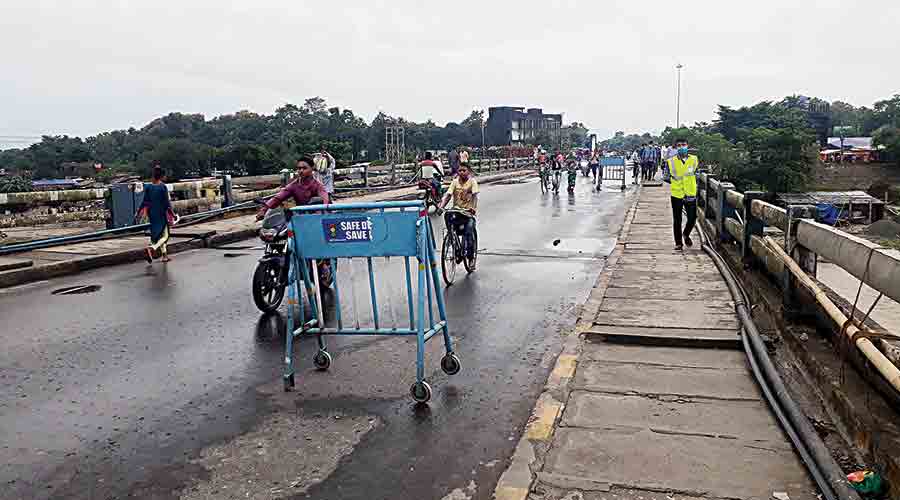 "For almost a decade, most of the heavy vehicles (weighing above 10 tonnes), be it trucks carrying consignments of teas from the Dooars or vehicles of defence forces (there are a number of defence installations in the Dooars that shares border with Bhutan), have been taking roundabout routes and moving via Jalpaiguri. We often hear that decks have been cleared for the new bridge but till date, construction has not yet commenced," said Chandan Roy, secretary, Dooars Forum for Social Reforms.
Similar is the case of the Balason river bridge. Though there has been an unprecedented growth in the local and regional traffic during the past 50 years, no initiative was taken to build a second bridge parallel to it.
"The central government is entirely responsible for the delay. There is a long-pending proposal to widen the stretch of NH31 from Balason to Sevoke and make it a four-lane highway (it is two-lane now). Land is not at all an issue," said Alok Chakraborty, the chairman of Darjeeling (plains) district Trinamul.