Glam up with magic makeover
Read more below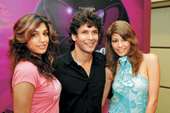 ---
Published 21.04.05, 12:00 AM
|
---
A file picture of Milind Soman with veejays Anushka (left) and Archana at the announcement of Channel [V]'s Get Gorgeous 2 in Mumbai; Archana at a nightclub in Calcutta during the regional selections last year.
Another Cinderella story is waiting to unfold. The second edition of Channel [V]?s Get Gorgeous promises to transform many more Jassis across the country into the Mona Singhs that lie hidden inside them. After the stupendous success of last year?s inaugural show, the model hunt is all set to roll this year, on Channel [V] from Saturday, April 23, 6 pm.
Flashback
Last year, of the 6,000 entries received, 16 finalists were taken to Goa for the final selection. With a jury that included designers Hemant Trevedi and Aparna Chandra, make-up artist Ambika Pillai, choreographers Tanya and Aparna, fitness guru Mickey Mehta and lensman Sameer Parekh, four fresh faces got gorgeous.
l four got to walk the ramp for designer Suneet Verma at the Rome Fashion Week. Twenty-one-year-old Calcutta-girl Archana Vijaya became [V]?s newest VJ after shooting for Tarun Tahiliani, Elle, Seventeen and L? Officiel.
Tanvi Singh from Bhopal has done shows for international labels like Mango and Morgan, and is also set to walk the ramp for this year?s Lakme India Fashion Week. Natasha Suri from Mumbai has done ramp shows with Sabyasachi Mukherjee, Shantanu & Nikhil, Narendra Kumar and Rina Dhaka. Aarohi Mishra from Bangalore has been part of print campaigns for Miranda, Pantaloons and the Ch?teau Indage calendar.
Says Get Gorgeous 2004 judge Trevedi, who is also part of the jury this year: ?A model hunt like this changes the personalities of the contestants completely. The industry absorbs the winners in a jiffy and before you know, you have brand new supermodels.?
Take two
Before hitting the airwaves, Get Gorgeous 2 travelled to New Delhi, Calcutta, Pune, Bangalore, Goa and Mumbai this February to scout for ?the one face that will launch a thousand products?. Over 5,000 entries were received and after extensive auditions, to be beamed on the show, the 16 shortlisted contestants would be travelling to Sri Lanka for grooming and training by the experts.
Unlike last year, this time there will be just one winner who will bag a contract with Channel [V] and one with Elite Model Management. The judges? panel in 2005 is smaller but stronger. While Trevedi stays on board, joining him are model Noyonika Chatterjee and model-turned-actor Milind Soman.
?Apart from choosing the winner, what we want to do is get these contestants to shed their inhibitions and project their inner spirit,? Milind told Goodlife. ?We are not looking for conventional beauties. Of course, the looks shouldn?t turn someone off but what really matters is their personalities.?
For Noyonika, it is the striking uniqueness that counts. ?You don?t have to be someone?s clone. Rather than emulating some big model, we would inspire and encourage the finalists to develop their own style. Through workshops and fresh portfolios, we would provide them the platform from where they would come out of their shells, yet not lose their own identities.?
Trevedi, though, is on a soul trail. ?If you do not have a good heart or a pleasant attitude, fellow models, photographers and fashion designers wouldn?t be eager to work with you. So for me the stress is not on finding someone who would do modelling for money, but would enjoy wearing clothes and displaying them.?
Just jury
The three members of the jury are unanimous on one count ? Get Gorgeous is completely different from a beauty pageant. Says Trevedi: ?I have been with the Miss India contest for around 15 years and such a beauty pageant is completely different from a model hunt like this. Here you don?t have to promote Indian womanhood, you have to promote yourself. You do not have to be madly intelligent, you should be good enough to launch products and clothes. More importantly, when a simple girl sitting in Guwahati or Chandigarh watches the show, she too can hope of making it big one day.?
Milind finds the format of the show even tougher than a regular beauty pageant.
?It is definitely a little more difficult with the models not even getting to speak here. So they have to project themselves through the way they carry themselves. And since we are looking at someone completely fresh, it won?t be that easy.?
Noyonika, however, disagrees with Milind. ?Here, you don?t have to have the gift of the gab. You don?t have to be your country?s prospective ambassador. All you need to do is utilise the platform and get in close proximity with the best names in the world of fashion photography and designing in the country.?