Girls shine in madarsa exam
Merit outdoes poverty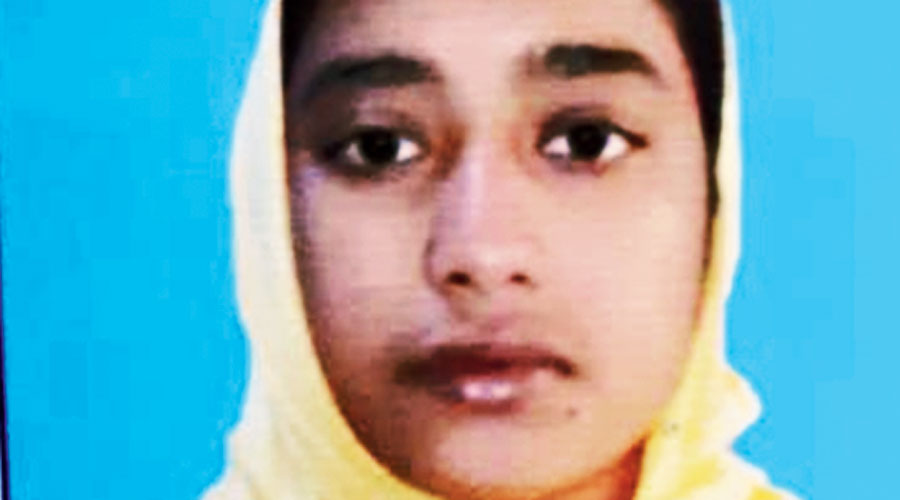 State topper Nosifa Khatun from Murshidabad
Sourced by the correspondents
---
Malda, Behrampore
|
Published 17.07.20, 12:22 AM
|
---
Merit outshone poverty as most toppers of the West Bengal Board of Madrasah Examination (WBBME), whose Class X board results were announced on Thursday, proved their mettle by defying odds.
The WBBME is the state government administered autonomous examining authority for affiliated and recognised madarsas in Bengal.
This year, the first two toppers were girls from humble families in Murshidabad and Malda districts.
Altogether, 12 candidates from these two districts have found their places in the top 10.
Nosifa Khatun, daughter of mason Toyab Sheikh from Jangipur in Murshidabad, stood first in the state with 771 marks out of 800.
Her mother Joshenur Bibi is a biri-binder. The family literally struggles to earn enough for food. But nothing could put down Nosifa, who now dreams of becoming a doctor.
Tamanna Yasmin of Bottola Adarsha High Madrasah at Ratua in Malda, who came second with a score of 769, and is the daughter of traditional village healer Mohammed Mansur Alam, also aspires to be a doctor. "I want to serve rural women. I've seen their pain since my childhood," she said.
Mijanur Rehman of Talagachhi High Madrasah, Malda, is the son of a jobless migrant worker from Odisha. Mijanur has managed to prove himself by coming fourth with a score of 765. "My father is sitting at home these days. I am interested in science and I want to be a researcher. But I doubt whether my family, which finds it hard to arrange two square meals a day these days, can manage to fund my education," said Mijanur.
Afifuddin, a student of Ramnagar High Madrasah at Gazole in Malda, who came fifth in the state with a score of 763, doesn't know if he can continue with  his higher studies. His father is mentally challenged and has no income, his mother Joshnara Begum said.
Tying at fifth spot with Afifuddin is Mobarak Hossain. "I had to cycle for 3km and cross a river by boat to reach my school. My family could not afford private tutors. My school teachers helped me in my studies," said Mobarak.
Sahid Akhtar of Lalgola Rahamatuallah High Madrasah in Murshidabad stood third with a score of 767. Riki Ali of Amirabad High Madrasah of the same district bagged the fourth spot with a score of 765.