Gautam Deb seeks help from all, including Opposition
In the February 12 election of the Siliguri Municipal Corporation, Trinamul won 37 wards, followed by BJP with five, Left Front with four and Congress with one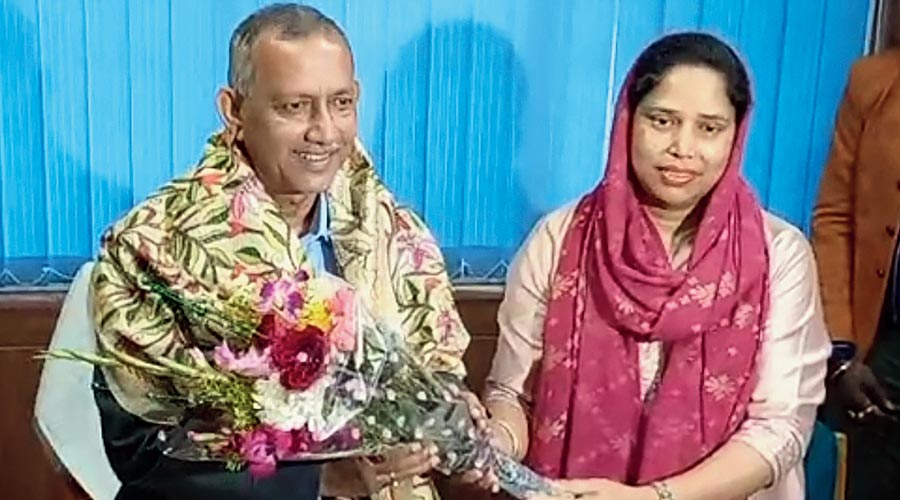 Siliguri's new mayor Gautam Deb receives a bouquet from minister Sabina Yeasmin on Tuesday.
(Passang Yolmo)
---
Siliguri
|
Published 23.02.22, 02:16 AM
|
---
Gautam Deb, who was elected unopposed as Siliguri's new mayor on Tuesday, again proved his brand of politics was different.
The new mayor spoke of his intent to include Opposition councillors in the functioning of the corporation and remembered past Opposition leaders publicly.
"We have won in 37 seats but let me be clear that there are 47 custodians in this corporation and I will take the opinion of all councillors in running the body," Deb said.
In the February 12 election of the Siliguri Municipal Corporation, Trinamul won 37 wards, followed by BJP with five, Left Front with four and Congress with one.
In another rare gesture, the Trinamul leader also sought help from BJP leaders for the betterment of Siliguri. "I also need cooperation from MP Raju Bista and Siliguri MLA Shankar Ghosh for the betterment of Siliguri as a major city in Bengal as envisioned by our chief minister Mamata didi," said Deb. Bista and Ghosh are from the BJP. Ghosh had contested the SMC polls but lost.
The mayor also surprised many by remembering Opposition leaders from Siliguri and the region.
From BJP MPs from Darjeeling, Jaswant Singh and S.S. Ahluwalia to CPM MP Ratanlal Brahmin and former Siliguri mayor and CPM MLA Asok Bhattacharya all found an honourable mention in his speech.
"We must remember all these personalities. We cannot forget the contribution of George Mahabrat Subba or Ratanlal Brahmin. We must also appreciate the initiatives taken by Ashok Bhattacharya who was also the municipal affairs department minister," said Deb at the civic felicitation ceremony organised by the SMC at Baghajatin Park.
George Mahabrat was the first MLA from Siliguri constituency.
Deb's statements on Tuesday reaffirmed that one of the senior Trinamul leaders from north Bengal was keen to take forward the model of constructive and dispute-free politics.
Asked for his reaction, a senior Left Front leader and former councillor who did not want to be named, appreciated Deb's message on Tuesday but said time would be the best judge.
"The message can be appreciated but given the party's image and track record of their party workers, we need to see how far Deb can walk his talk," the Left Front leader said.
Even before the February 27 elections to 108 civic bodies across the state, Trinamul has already won
Dinhata, Suri, Sainthia and Budge Budge uncontested.
Trinamul leaders such as Udayan Guha from Cooch Behar and Anubrata Mandal from Birbhum had taken credit for the wins.
Deb, however, has been insisting that Trinamul need not indulge in such brand of politics and that the party's development work can easily ensure a win in local elections. Many within the party endorsed Deb's stand and said his brand of politics boosted the  party's image.
Opposition leaders have also admitted in private that the SMC elections were held peacefully.