Funds plea to Brahmaputra river board for flood-protection
Questions raised by Bengal govt as to why they are not being allocated for protection of the banks of rivers flowing through districts of north Bengal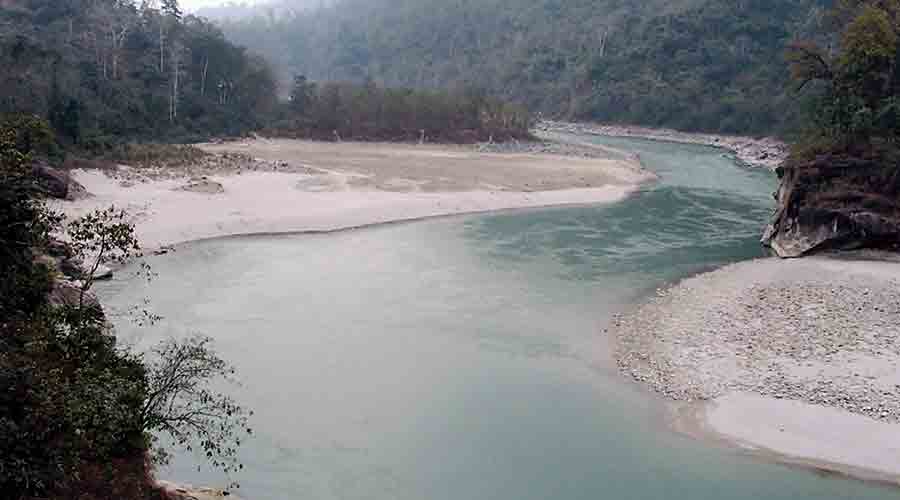 ---
Jalpaiguri
|
Published 23.10.21, 01:45 AM
|
---
The Bengal irrigation department has submitted project proposals worth Rs 110 crore to the Brahmaputra Board for carrying out flood-protection and anti-erosion works along the banks of five prominent rivers flowing through the districts of Jalpaiguri, Alipurduar and Cooch Behar.
The board, which is headquartered in Guwahati, works under the Union ministry of water resources.
"The rivers of these three districts of Bengal are considered to be part of the Brahmaputra basin. At a meeting of the board held earlier this month, we had mentioned that funds should be allocated for carrying out different protection works on the banks of these rivers. Those present at the meeting had asked for project proposals from us. Accordingly, we have submitted the proposals with an estimated cost of around Rs 110 crore," said Subhankar Chakraborty, the chief engineer (north-east) of state irrigation department.
Though these three northern districts of Bengal come under the board, time and again questions have been raised by the state government as to why funds are not being allocated for protection of the banks of rivers like Teesta, Torsha, Jaldhaka, Raidak, Mansai and Kaljani which flow through them.
According to sources, among the projects which have been submitted before the board, include flood protection works — construction of embankment and allied works — along a stretch of 9.1 kilometres on the left bank of Teesta near Joyee bridge that connects Haldibari and Mekhliganj.
There are also proposals for embankment repair works on the right bank of Mansai river in Mathabhanga-I block and similar work on the left bank of the Mansai in Dinhata-I block and Mathabhanga-II block, all located in Cooch Behar district.
Proposals for construction of an embankment along a 500-metre stretch of the Raidak-II river in Cooch Behar and same work along a stretch of 410m on the right bank of Sankosh — the river that divides Bengal and Assam — have been also put before the board.
"We have also found that flood protection works are necessary along a stretch of 2.18km on the left side of the Torsha river bridge off NH31. This is another project which we have submitted before the board seeking allocation of funds," said an official of the irrigation department.
A senior officer of the state government, when asked about the projects, said the Centre provides funds through the board to carry out such works.
"Funds should be allocated for all rivers of the Brahmaputra basin. However, we have found that funds are provided only for rivers located in northeastern states and not for the rivers flowing through these districts of north Bengal," he said.