Fresh from crisis, Durgapur mulls backup water plan
Municipality wants feeder canal to be desilted swiftly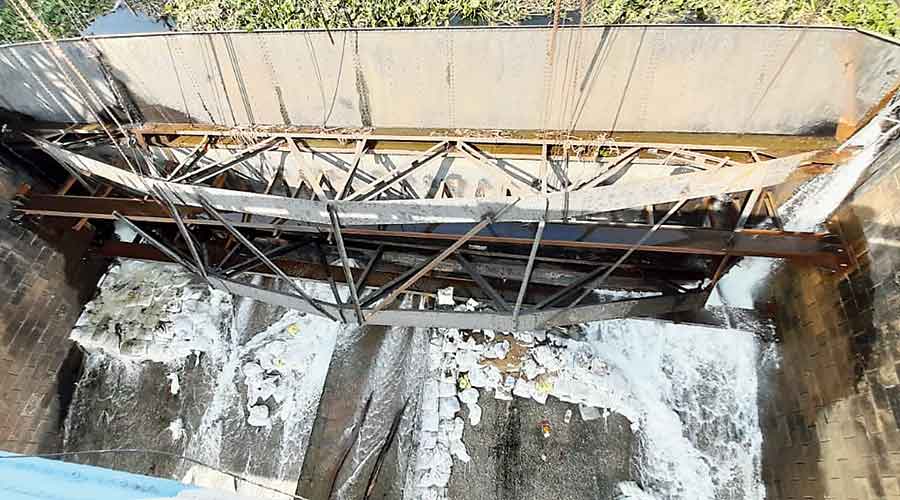 ---
Durgapur
|
Published 09.11.20, 05:04 AM
|
---
The municipal corporation has decided on a blueprint for robust water supply backup plan in the town, which faced severe water scarcity for a week after a snag developed at Durgapur Barrage on Damodar that feeds water to the civic body's treatment plants.
Pabitra Chatterjee, mayoral council member (water supply) of the civic body, said the feeder canal from where they fetch water to the treatment plants needed desilting. 
"This is the second time since 2017 that we have faced such a water crisis for days following a snag at the barrage. We supplied water in tankers from 11 deep tube wells that we set up after the 2017 incident but that is not enough for a crisis of such magnitude," he said. "We fetch water from the feeder canal and supply it to our water treatment plants in Durgapur.
The water is then supplied across town. But the canal's water carrying capacity has reduced because of silt deposit," said Chatterjee
Civic body engineers said the canal is 8.5km long and 3m deep but silt deposit has shrunk its capacity to almost half.
"If we can increase the depth of the canal, it can hold more water and we could maintain normal water supply to our plants for at least five to six days if a crisis occurs," said Chatterjee. He added that water treatment plants also needed an upgrade.
The civic authorities have sent a draft proposal to the municipal affairs department for approval and sanction of funds. "De-siltation is a costly job that we can't do with our own resources. We need funds from the government and for that we need the department's nod," said Chatterjee.
Engineers at the water supply department of the civic body said they pay an yearly fee of Rs 12 crore to the Damodar Valley Corporation (DVC) as maintenance and water charges. "The DVC a few months ago carried out partial desiltation but that is not sufficient," said the engineer.
DVC officials in Durgapur said silt accumulation is natural in rivers and canals.
"Encroachment along the banks of the canal and dumping of trash by encroachers create more trouble," said a DVC official.
The civic body supplies around 20 million gallons per day of water to the town for domestic and commercial use. Civic authorities have started exploring other options for water, instead of depending on Damodar alone, like the Ajay river on West Burdwan-Birbhum border.
Water supply has resumed in Durgapur after a week but residents of some areas complained of inadequate supply.
In Durgapur's Bidhannagar housing, residents blocked the local road for an hour after not getting water on Sunday.
"We have not yet received water despite assurance from local civic authorities. We will not withdraw our protest until we get water," said Haradhan Haldar, a resident.
Local Trinamul councilors Dipen Maji and Dipankar Laha got involved in altercation when local BJP workers joined the protest.
Later, councillor Maji said a communication gap between housing functionaries and the civic authorities caused the chaos, which was then sorted out.
Water supply was severely affected in Durgapur and parts of Bankura for a week after sluice gate no. 31 of Durgapur Barrage got bent resulting in water gushing out to the lower catchment area, leaving the upper catchment almost dry.