Forest guards fatally shoot tea worker
A worker of the Mohorgong-Gulma tea estate, went in search of his cow in the tea garden when they allegedly fired from pellet guns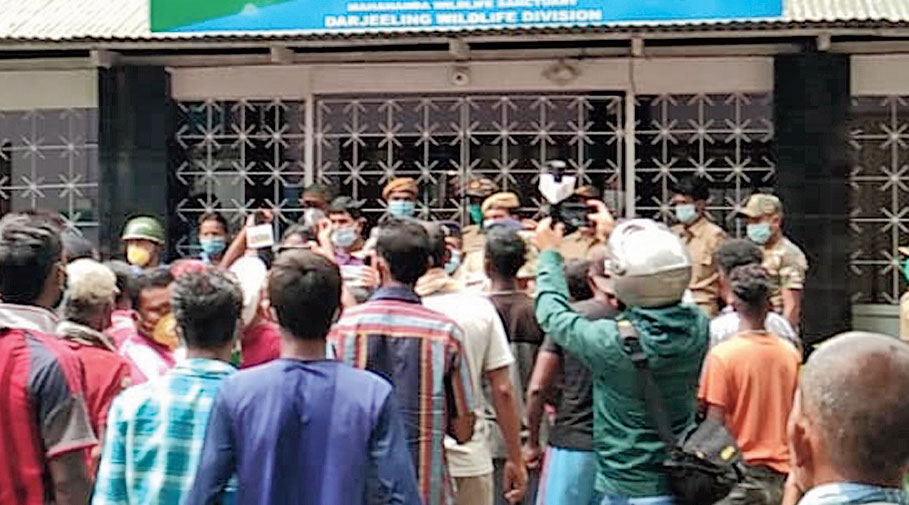 ---
|
Siliguri
|
Published 07.09.20, 04:58 AM
---
A young tea garden worker died after he was allegedly shot by forest guards on patrol on Saturday evening at Sukna, some 10km away from here, leading to tension in the area.
Residents of the tea estate demonstrated in front of the Sukna forest range office for over four hours till 3pm on Sunday, demanding stringent steps against the forest guards concerned and compensation for the victim's kin.
Ranjan Sarkar, president of Trinamul's Darjeeling (plains) district, and the party's trade union leaders rushed to the spot to meet forest officials.
They then assured the people that the victim's family would be duly compensated. It was after this assurance that the demonstration — on since 11am — was withdrawn around 3pm.
Foresters of Darjeeling wildlife division have said that an appropriate investigation of the case would be done.
Sources said Ajit Sauria, 28, a worker of the Mohorgong-Gulma tea estate near Sukna, went in search of his cow in the tea garden on Saturday evening.
A team of forest guards patrolling in the adjoining forest area allegedly fired from pellet guns. Ajit sustained serious injuries and died on way to hospital.
"Ajit had returned home from work (at the Mohorgong-Gulma tea estate) and could not find one among his cattle, so around 7.30pm he went out in search of the animal. Forest guards who had been patrolling at that area suddenly fired at him and left the spot," said Rajesh Toppo, the vice-president of Cha Bagan Trinamul Congress Mazdoor Union.
"When Ajit did not return home, his family members got worried and started searching for him. They found him in a deserted location of the garden. They had been taking him to hospital when he died on the way," added Toppo
On Sunday morning around 11am, hundreds of residents of the tea garden went to the forest office in Sukna for a demonstration and confined the foresters to office.
Around 2.30pm, Trinamul leaders from Siliguri met with the foresters in Sukna, and then assured the demonstrators that necessary compensation would be given to Ajit's family.
"We have demanded stern steps against the guards who shot the worker. The forest department should also provide a job to the deceased's wife. I will inform the entire incident to the state forest minister. We will also provide some financial assistance to the bereaved family on behalf of our party," Sarkar said.
J. Jesper, the divisional forest officer of Darjeeling wildlife division, said they would conduct the necessary investigation in the case.
No one has been arrested in the case so far.