Florists block road to protest extortion
Police personnel from the local Panskura police station reached the site to disburse the crowd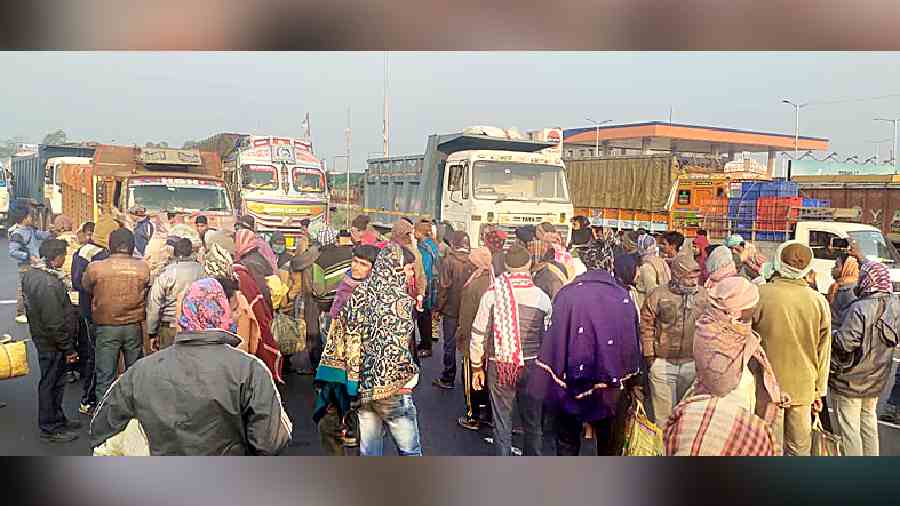 Florists block Mumbai Road with trucks loaded with flowers at Panskura in West Midnapore on Monday
---
Tamluk(EastMidnapore)
|
Published 06.12.22, 05:55 AM
|
---
A section of the Calcutta-Mumbai national highway 6 remained blocked for an hour on Monday morning as over a hundred flower farmers from the East and West Midnapore districts protested against continuous extortion by a section of law enforcers.
Police personnel from the local Panskura police station reached the site to disburse the crowd. However, they faced an aggressive mob, which withdrew the blockade only after police assured them that the matter would be seriously looked into.
"We carry flowers in trucks to Calcutta, Deulia, and Kolaghat every morning through NH-6. The businessmen are primarily from East Midnapore's Debra and West Midnapore's Panskura. However, we are repeatedly stopped on the highway by traffic police and civic police who extort money from us," Manas Jana, a protesting flower farmer, said.
"If someone refuses to pay them, they harass them in the name of checking their documents. This delays the entire process," he added.
According to these farmers, in their business it is important to reach the market on time since a delay of more than two to three hours will result in the flowers going bad. This adversely affects their business, said a florist.
The All Bengal Flower Farmers and Sellers wrote to the police for a remedy.
In case, their demands are not met, the organisation has threatened indefinite agitation.
"We have also written to the district magistrate of East Midnapore and the authorities of the Panskura traffic guard," said Narayan Chandra Nayak, the secretary of the organisation.