First trip becomes last for Kamruddin
Kamruddin Sheikh, 32, was killed, along with four others, on Tuesday evening in Kashmir's Kulgam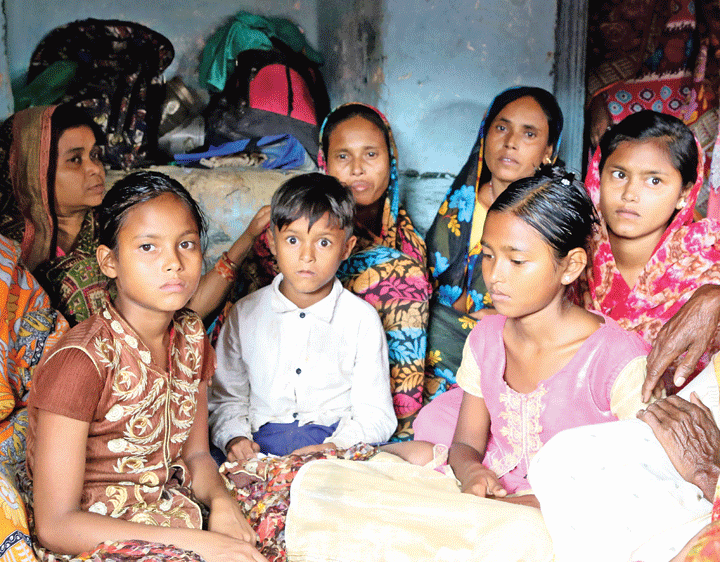 Relatives of Kamruddin in Bahalnagar
(Chayan Majumdar)
---
Sagardighi
|
Published 30.10.19, 08:05 PM
|
---
Roshanara Biwi, 29, sat on the floor of her hut on Wednesday morning clutching her children.
"I am a widow now. What will happen to my children," she cried, distraught.
Her husband Kamruddin Sheikh, 32, was killed, along with four others, on Tuesday evening in Kashmir's Kulgam.
As neighbours turned up to console Roshanara, she kept murmuring why she allowed her reluctant husband to leave for Kashmir.
"He didn't want to go… He was apprehensive about going to Kashmir. But we needed money," said Roshanara recounting how her husband joined six others on October 3 when they left for Kashmir to work as an apple picker for a daily wage of Rs 500, besides free food and accommodation.
Unlike most other young men in the area, Sheikh had never been to Kashmir before to work in apple orchards.
Seated with friends and neighbours in condolence, Roshanara said their financial condition had left them with no choice. Earlier this year, their eldest daughter had been diagnosed with a condition involving a displaced kidney causing persistent urinary problems.
"Doctors told us it would require an open surgery worth at least Rs 70,000," she said.
Rahema Khatun, 15, a Class X student at Bokhara High School, is the couple's eldest child. Sehana Khatun, 12, Shakila Khatun, 10 and Shaukuth Sheikh, 7, are the other children.
Roshanara, a homemaker, said Sheikh earned a daily wage of Rs 200 as a farm labourer for most of the year and the family had hardly any savings. On Wednesday morning, several political leaders in the area visited her home and she had only one request for them. "It is my humble wish that someone from the state government also reaches out to us so that I can find some way to feed and clothe my children."
She recounted that before leaving, Sheikh had told her that he would leave Kashmir as soon as he was able to secure Rs 30,000 for their daughter's treatment.
On Wednesday, Rahema lamented that she had allowed her father to go. "I tried to stop him, because I did not want him to be far away. He promised this would be the first and last time," she said. "Unfortunately, it was the last time," Rahema said, breaking down.