Fire breaks out in New Digha resort, 10 tourists injured
The mishap occurred on the second floor of Victoria Hotel spread rapidly through the stairwell, prompting boarders to climb out onto ledges or climb down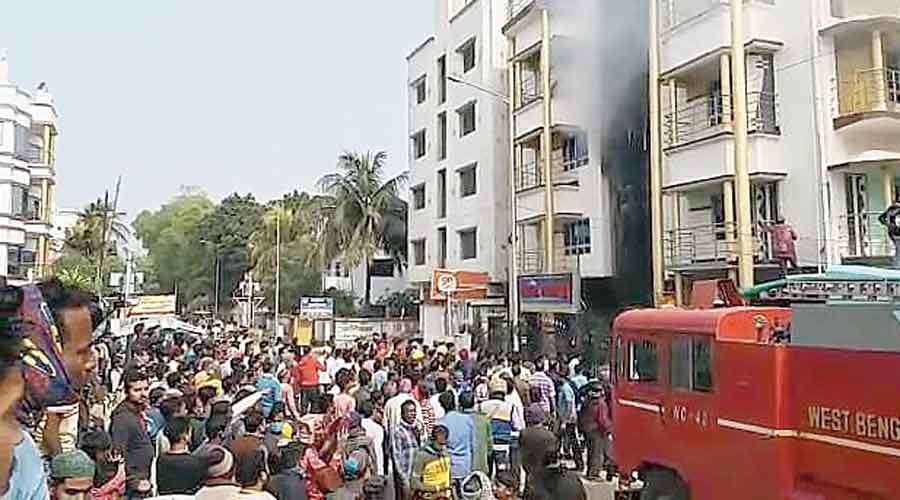 A fire engine outside the Victoria Hotel at New Digha on Thursday.
Subhas Mishra
---
Digha
|
Published 28.01.22, 01:59 AM
|
---
Ten tourists were injured, one of them grievously, when a fire broke out on Thursday morning at a hotel in the seaside resort of New Digha in East Midnapore.
The fire that broke out on the second floor of the three-storey Victoria Hotel spread rapidly through the stairwell, prompting boarders residing on the second floor to climb out onto ledges or climb down by holding onto drainage pipes.
Bhubaneswar resident Shivbrat Mishra, 30, had reportedly been trying to escape to safety from the second floor when he fell to the ground and shattered bones on the left arm severely. He was first rushed to Digha State General Hospital and then referred to a hospital in Cuttack for emergency surgery.
"The fire that started most likely from a short circuit quickly filled the stairway up with smoke, rendering it impossible to be used," said Mahisadal resident Bidhan Jana, who was residing on the second floor. Sources said the hotel's lift was shut down as soon as the fire broke out owing to power outage.
"A handful of boarders were able to climb down by holding onto the drainage pipe, whereas a few others were able to climb down by the individual ceilings of balconies, which was much more precarious," said a source. Bishwanath Roy, a resident of Siliguri, was on the second floor of the hotel when the fire broke out. He had come with a group of friends to Digha on Thursday morning and had checked into the hotel. "I went to the bathroom at 11am and smelled something burning. Then, I came out of the room and saw flames leaping from the same floor I was staying on. Seeing the stairwell filled with black smoke, my friends and I made our way down by the pipes," he said.
Digha Shankarpur Hoteliers' Association president Sushant Patra said: "The number of tourists in Digha was very low as tourist towns were closed till January 31. The 40-room hotel had relatively few tourists on Thursday. Nonetheless, several people were injured when trying to climb down by pipes and cornices."
Contai subdivisional police officer (SDPO) Somnath Saha said prima facie, the fire started from a short circuit.
"Two fire engines brought the situation under control," he added.