Erosion leads to evacuation near Samserganj
Twenty moored fishing boats lost; BSF outpost washed off and at least 10 families displaced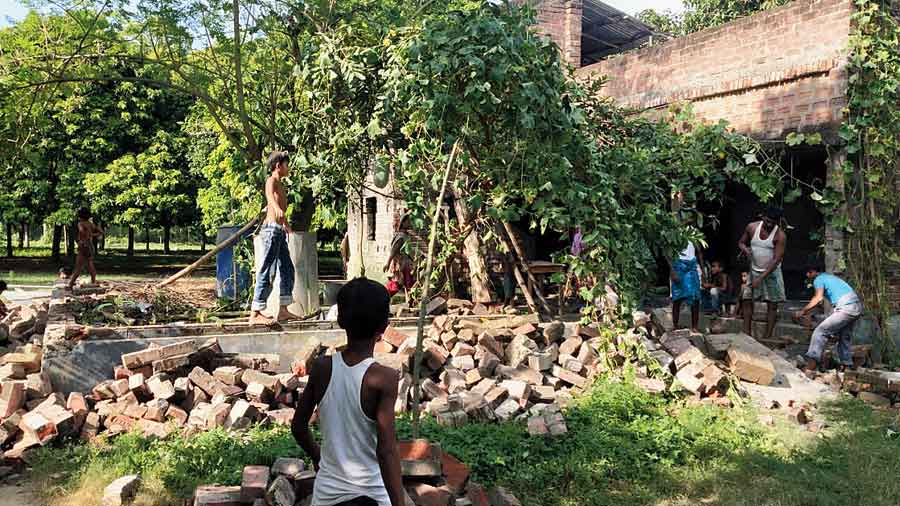 ---
Samserganj
|
Published 15.08.20, 12:53 AM
|
---
An 800m stretch of the Ganga's right bank here eroded early on Friday morning, forcing at least 10 families to vacate their homes and dismantle the houses from which bricks and fixtures were salvaged. 
An outpost of the Border Security Force's 76th battalion outpost was also washed away, leaving a jawan missing for over half-an-hour. 
Residents of Samserganj's Dhanghora were awaken around 1am on Friday to thrashing sounds and a cry of help from an adult male voice. 
"We heard a scream of 'save me' from near the zero point. A group of us responded but were initially hesitant because civilians are not allowed there," said villager Barjahan Sheikh.
"But soon, we realised the gravity of the situation and launched a search. We located the jawan half-an-hour later. Luckily, he knew swimming and could come out of the current," Barjahan added.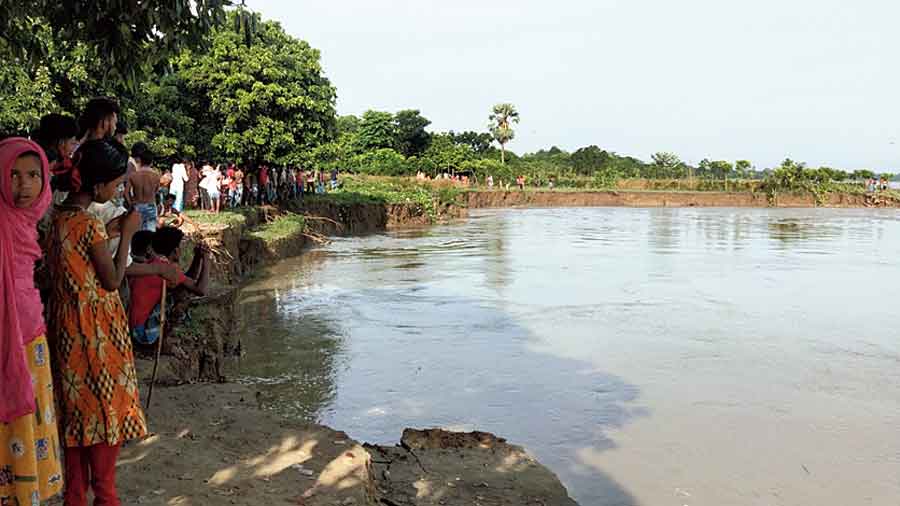 Residents of Dhanghora said the makeshift bamboo outpost with a 5ft height was usually manned by two jawans atop and two resting below during the night shift.
Early on Friday, one of the resting jawans was washed away by the flood water that claimed a large stretch of the river bank. On Friday morning, at least 10 families, whose homes were within 150-200m of the damage, voluntarily demolished their homes, removed fixtures and moved out of the area with their belongings.
Sources said at least 20 moored fishing boats carrying nets and other equipment had also been lost in the sudden erosion. "I lost all equipment for my livelihood. I docked around 8pm as usual last night and returned home. But it was a different scene this morning and all the boats were missing," said fisherman Prabhash Halder.
Samserganj block development officer Joyjit Chakraborty said engineers had been dispatched to the site on Friday morning and were surveying the area.
"I will request the irrigation department to put in place safety measures in the area in order to prevent future erosion. I will survey the area on Friday evening," he said.