East-West Metro gets Delhi sanction
Read more below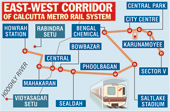 ---
---
Delhi cleared the way for Calcutta's second Metro corridor on a day when workers of Bengal's ruling party blocked every form of transit in the city.
The Rs 4,680-crore East-West Metro project, a 13.77-km stretch of underground and elevated tracks from Salt Lake to Howrah, will be implemented by a company modelled on the Delhi Metro Railways Corporation. It will have six representatives each of the Centre and the state government. Urban development secretary M. Ramachandran will be its chairman.
Work will start next January and the route is likely to be inaugurated by 2014.
Chief minister Buddhadeb Bhattacharjee said he was excited about the project. "This is good news. It should have been cleared in the previous Cabinet meeting, when I was in New Delhi. It got delayed because of the Gujjar agitation," he said before leaving Writers' Buildings.
Chief secretary Amit Kiran Deb said the elevated tracks would be laid first. "The completion cost is likely to increase to around Rs 5,300 crore. The elevated portion will be made operational once construction is complete."
The state will bear 30 per cent of the expenditure and the Centre 25 per cent. The remaining 45 per cent will be a soft loan from the Japan Bank for International Cooperation.
The East-West Metro will have 12 stations, of which six will be underground and six elevated. The government will acquire three acres of land for the stations. The car shed will be at Salt Lake's Central Park. "People affected by the project will be relocated on plots owned by the transport department off Poddar Court and along AJC Bose Road," Deb said.
The fares will range from Rs 8 to Rs 15.
The difference between the existing Metro and the East-West link is that the new one will have standard gauge instead of broad gauge tracks. The tunnels under the Hooghly will be dug using a boring machine weighing 500 tonnes.
"These machines are like moles working underground," Delhi Metro spokesperson Anuj Dayal said.
Delhi Metro Rail Corporation had been commissioned by the Bengal government to prepare the project report.
"The Calcutta East-West Metro structures have been designed to be earthquake-resistant," Dayal said.