Drive to count tiger population in Dooars
Exercise to commence in 3 reserve forests of North Bengal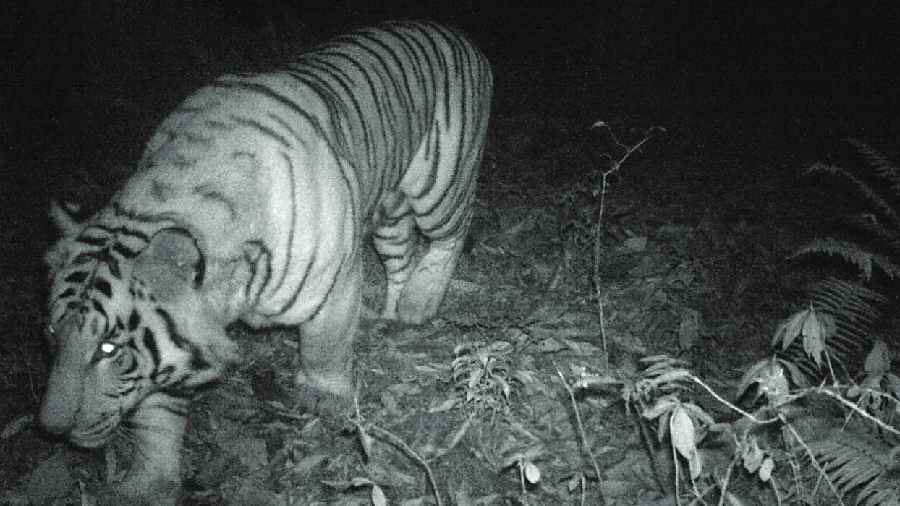 A picture of a royal Bengal tiger captured by a trap camera in 2018 at Neora Valley National Park of Kalimpong district.
File picture
---
Jalpaiguri
|
Published 05.05.22, 01:07 AM
|
---
The state forest department on Thursday will commence estimation of population of tigers — the principal predator — and the herbivores — the prey base of tigers and co-predators like leopards — in three reserve forests of north Bengal.
"It will be a three day exercise and will conclude on May 7. The estimation will be carried out in Neora Valley National Park of Kalimpong, in Gorumara National Park and Chapramari Wildlife Sanctuary, both located in Jalpaiguri district," said Anshu Yadav, the divisional forest officer of Gorumara wildlife division.
As per the records available with the state forest department, presence of tigers was found in the Gorumara and the Chapramari till the eighties. Also, in Neora Valley, tigers were spotted till the nineties.
After a gap of almost two decades, a tiger was sighted in Lava that is near the Neora Valley NP in January 2017 when Anmol Chhetri, a cab driver, saw it and clicked its photo.
Following this, the state forest department installed trap cameras in different locations of the national park and in the next couple of years, the cameras clicked a number of photos of tigers.
"That is why this estimation is very important for us. We would also carry out a survey of herbivores and collect samples of elephant's faeces," said a forester.
According to him, in the Neora Valley, the department will use polygon search method of computational geometry, considering its mountainous terrain and the pristine nature of the forest.
In Gorumara and Chapramari, the department would use the M-STrIPES app, introduced by the National Tiger Conservation Authority.
The app uses a global positioning system (GPS), general packet radio services (GPRS) and remote sensing to gather information from the field and then create a database using IT based tools.
In Neora Valley, 13 teams would be engaged to carry out the estimation while in Gorumara and Chapramari, 16 teams will work in designated areas.
"We will also use pet elephants in Gorumara and Chapramari. The feces of elephants will be collected for DNA tests," the forester added. 
The department has banned entry of tourists in Gorumara from tomorrow till May 7 folowing the exercise, sources said.