Doctors frown on bail for NRS accused
The doctors wanted to know why 'stringent' Indian Penal Code sections were not slapped on the five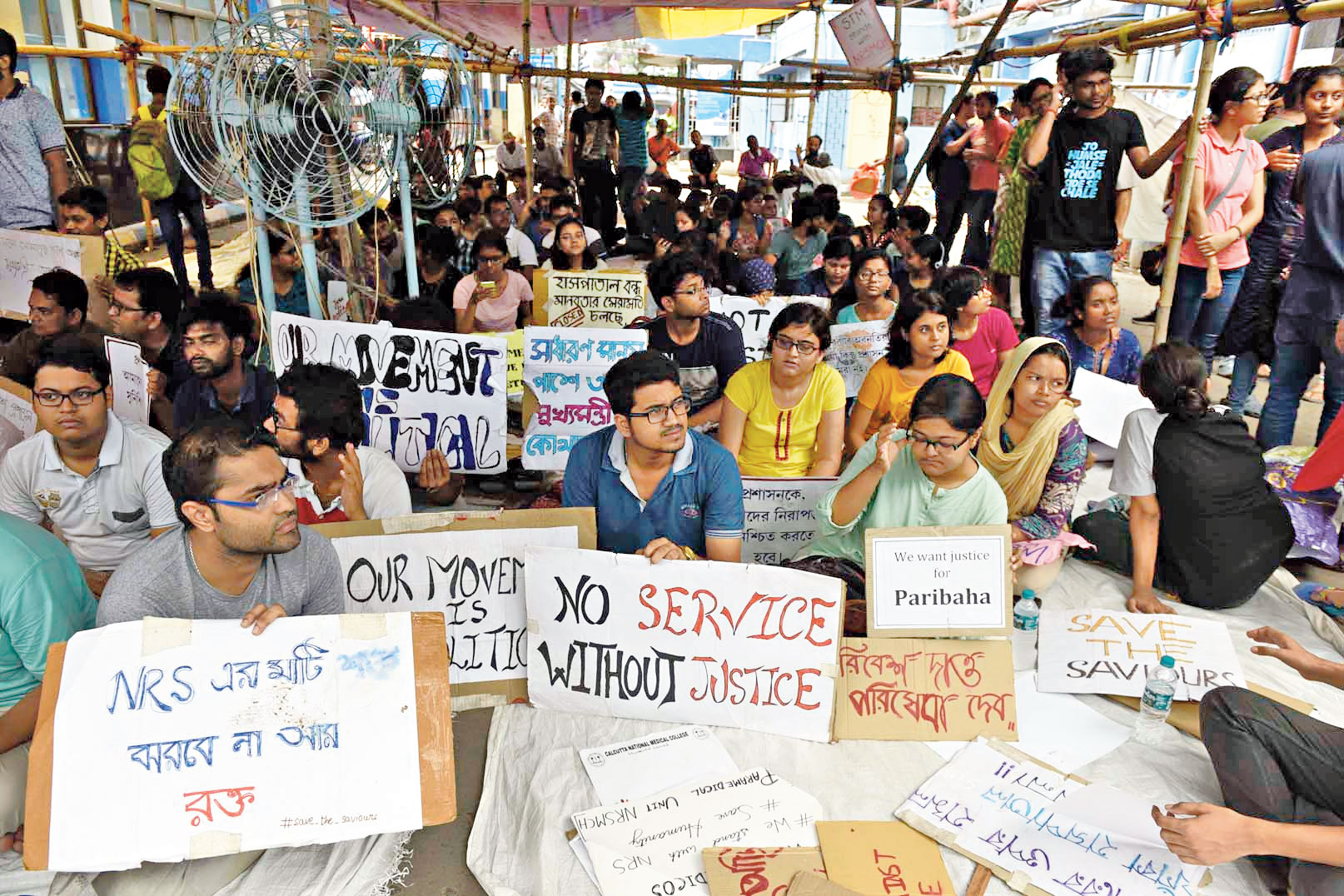 ---
|
Calcutta
|
Published 02.07.19, 10:53 PM
---
Junior doctors on Tuesday asked representatives of the state health department and police why the five men arrested for allegedly attacking two interns at the NRS Medical College and Hospital were granted bail.
The doctors wanted to know why "stringent" Indian Penal Code sections that could have prevented them from securing bail were not slapped on the five.
Police officers as well as health department representatives at the meeting at Swastha Bhavan explained to the doctors the bail was granted by a judge and that every accused had the right to get bail.
"We told the doctors that the case (related to the assault on the interns) was sub judice and explained to them that strong sections had been slapped on the accused," a health department official said.
"The juniors doctors were also told that the investigating officer had tried to meet key witnesses of the case but the doctors concerned kept evading before going home."
The junior doctors — around 25 of them attended the meeting — asked the police officers why the accused were not booked for attempt to murder under IPC Section 307.
The five — Mohammed Shehnawaz, Adil Hadun, Adil Seikh, Mohammed Yasuf and Mohammed Badal — have been booked for voluntarily causing grievous hurt to deter a public servant from discharging his or her duty. If convicted, they can be jailed for 10 years.
A judge of the Sealdah court granted bail to the accused on Monday after turning down the public prosecutor's plea that their judicial custody be extended. The bail was granted against a bond of Rs 2,000 each.
The Supreme Court has in a number of cases ruled that bail, and not jail, was the basic rule. In a case between the State of Rajasthan and Balchand, the apex court had in 1977 clarified that bail might be denied in circumstances that suggested that the petitioner might be suggestive of fleeing from justice or thwarting the course of justice or creating other troubles by repeating offences or intimidating witnesses.
The junior doctors then asked about the status of 60 other pending cases related to assault on doctors at hospitals. The cops at the meeting sought time to answer the query.