Ghosh and Suvendu differ on reasons for defection
While Adhikari said MLAs Tanmoy Ghosh and Biswajit Das had not taken part in BJP's activities in the past 4 months, Dilip alleged that the duo had been coerced into switching sides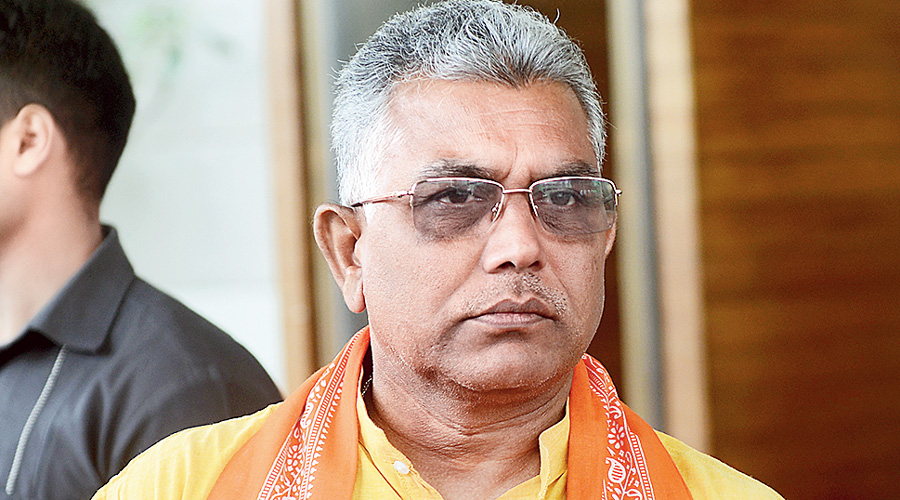 ---
Calcutta
|
Published 02.09.21, 12:43 AM
|
---
Bengal BJP president Dilip Ghosh and Opposition leader Suvendu Adhikari spoke in contradictory tones as they tried to cite reasons at a press meet in Calcutta on Wednesday for the recent defection of two party MLAs to the Trinamul Congress.
While Adhikari said MLAs Tanmoy Ghosh and Biswajit Das had not taken part in the BJP's activities in the past four months, Ghosh alleged that the duo had been coerced into switching sides by the state administration.
The differences in the stances taken by Ghosh and Adhikari came out at the news conference, which the two leaders attended along with party spokesperson Shamik Bhattacharya.
"How can two leaders contradict themselves, sitting right beside each other at the same news conference?" asked a BJP state-level functionary.
"If the defectors had not been keeping in touch with our party for the past four months, the administration didn't have to do much to make them go back to Trinamul. They were already on their way out," said the functionary.
Adhikari spoke about the distance that Tanmoy, an MLA from Bishnupur, and Biswajit, an MLA from Bagda, had developed with the BJP since May this year.
"Even after winning 213 seats, they (Trinamul) need more MLAs.…In the past two days, they have inducted two MLAs who had no connection with the party (BJP)," Adhikari said.
After the Nandigram MLA finished his briefing, Ghosh took a contradictory position vis-à-vis Adhikari while explaining the reason for the defections.
"Our MLAs are being targeted. Those from backward classes are being threatened by police...Shyamababu has been arrested and other MLAs have been tagged to it," he said.
Ghosh had previously said Tanmoy had been forced to switch over to Trinamul because he had been tagged in the case of monetary misappropriation that led to the arrest of former minister Shyamaprasad Mukherjee.
To demonstrate the legislative party's strength, the BJP presented 10 of its MLAs from Bankura, Bishnupur and Bongaon at the news conference. Joyel Murmu, the MLA from Habibpur Assembly segment of Malda, was also present at the press meet.