Didi warns cabinet colleagues of being closely monitored by central probe agencies
CM stresses need for 'a clean image' and caution in public life and service delivery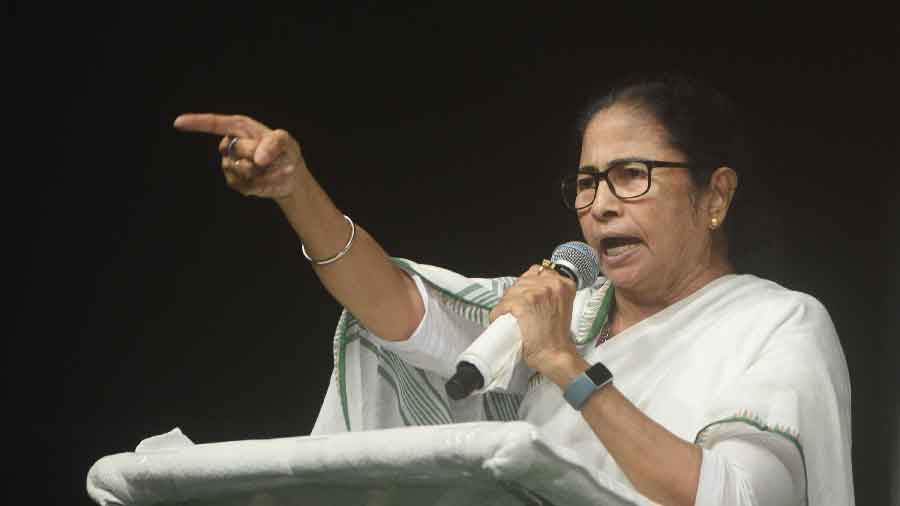 Mamata Banerjee.
File photo
---
Calcutta
|
Published 19.08.22, 02:12 AM
|
---
Mamata Banerjee on Thursday purportedly warned her cabinet colleagues of being closely monitored by central probe agencies, stressing the need for 'a clean image' and caution in public life and service delivery, before urging relative austerity in public appearances as representatives of her government.
The chief minister's remarks, in the wake of arrest by central agencies of Trinamul Congress heavyweights Partha Chatterjee and Anubrata Mondal, assume significance amid enthusiastic attempts by the Opposition to raise serious questions on her personal probity and her party's credibility when it comes to graft.
Mamata, who on Thursday chaired the first meeting of the state cabinet since its August 3 reshuffle, was quoted by sources as saying at the meeting that the BJP was being hyperactive and the situation demanded wariness.
"The BJP's (because it runs the Centre) agencies are working very hard now, in going after us. They are watching our every move. The BJP is looking to trap us. Be very, very alert, exercise utmost caution," she was quoted as saying at the meeting."I don't have to tell you about the importance of a clean image… it is imperative," she purportedly added.
The CPM, the Congress, and the BJP have directly been calling for the heads of Mamata and her nephew Abhishek Banerjee, accusing them of being direct beneficiaries of alleged corrupt practices being probed by the CBI and the Enforcement Directorate.
"Although it won't be admitted in public, she is obviously feeling the pressure. The developments since the morning of July 22 (when Chatterjee was arrested) have certainly dealt a body blow, in terms of perception," said a Trinamul MP.
"She does believe the damage is not permanent, but wants everyone to be a lot more careful. So that it does not get easier for the central agencies to frame us," he added.
On Thursday, Mamata was quoted as telling her cabinet colleagues: "Be careful every step of the way. Please double-check every file that goes through your hands, crosscheck everything you approve or put your signature to. Scan every piece of paper you sign, watch out for blank spaces... Please stop using beacon-fitted cars. Stop using piot vehicles, in Calcutta at least... this is a government of the common man, of Ma, Mati, Manush (the mother, the soil, the people)…. No VVIPs are welcome here, when I myself am an LIP, a least important person."
"VIP-like visits won't cut it. Get tangible work done."
Sources in the know said she had specifically warned a senior leader from North 24-Parganas, a minister-in-charge of two departments, regarding numerous complaints. The chief minister directly asked him why she had been getting multiple complaints against him, said a source.
"She ordered him to keep his image clean. It was a serious warning," said the source, who attributed the specific warning to Abhishek's "dislike" for the sexagenarian minister, who had been falling from grace for over a year.