Dhaka-Siliguri train talks on
On Sunday, an eight-member delegation of Bangladesh Railway led by Md Shahidul Islam reached Siliguri for talks that would continue till Tuesday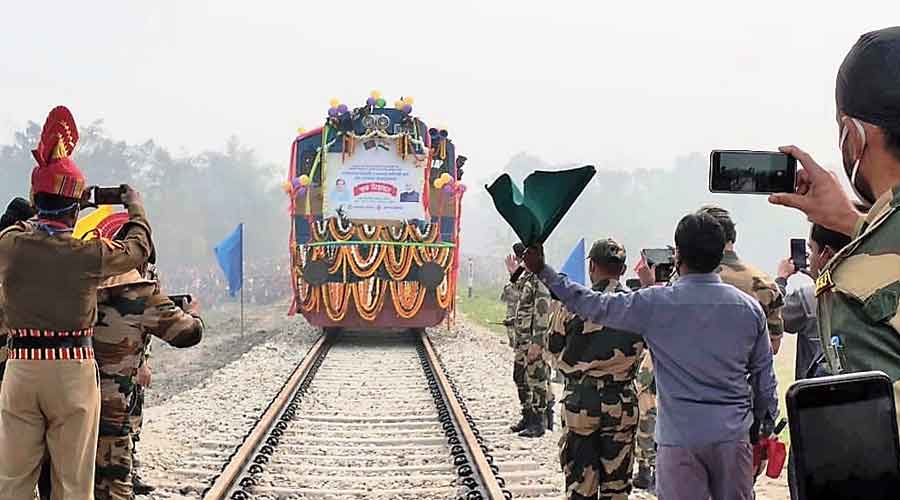 ---
|
Siliguri
|
Published 23.02.21, 02:52 AM
---
Bilateral talks between officials of Bangladesh Railway and Northeast Frontier Railway (NFR) started in New Jalpaiguri here from Monday on modalities for the proposed passenger train service between Siliguri and Dhaka.
On Sunday, an eight-member delegation of Bangladesh Railway led by Md Shahidul Islam, the divisional railway manager of Paksey railway division of Bangladesh, reached here for talks that would continue till Tuesday.
From NFR, the zone of Indian Railway that will handle the service, divisional railway manager of Katihar division R.K. Verma is leading his team in the talks.
"The two-day meeting started today (Monday) to discuss the proposal to start the passenger train service between Siliguri and Dhaka. Senior officials from both sides are at the meeting to discuss a range of issues pertaining to the train service," said S. Chandra, the NFR chief public relations officer.
On December 17 last year, India and Bangladesh reopened an old railway route that used to connect the countries — from Haldibari station (in Cooch Behar) to Chilahati station (Nilfamari district in Bangladesh) — after a gap of over 50 years. The prime ministers of the two countries, Narendra Modi and Sheikh Hasina, had jointly inaugurated the route for a goods train service.
In north Bengal, this became the third train route to Bangladesh after Radhikapur-Birol (in North Dinajpur) and Singhabad-Rohanpur (in Malda).
After the third train route re-opened, there were indications from both the countries that a passenger train service between Bangladesh capital Dhaka and Siliguri, a key commercial and tourism point in Bengal, will start.
"There are hints that on March 26 this year, that is, on the occasion of the Independence Day of Bangladesh, the passenger train service will be launched. That both nations are working on the proposal is evident from the two-day bilateral talks among railway officials," said a source in NFR.
He also pointed out that Indian Railways had developed infrastructure in Haldibari station. As recently as on Sunday, Union railway minister Piyush Goyal inaugurated a new station building, a circulating area, running rooms, signalling and electronic interlocking system in Haldibari, which is the last Indian station along the route.
Railway officials said a number of issues were being raised at the meeting such as safety, technical details, probable stations along the route, rakes, fares, among others.
Siliguri residents have welcomed the railway initiative, saying thousands of Bangladeshi residents visit north Bengal for various needs such as education, healthcare, trade and tourism, and the passenger train would help them.
Soumen Nag, a social researcher based in Siliguri, added: "Also, many north Bengal residents have roots in Bangladesh and want to visit the country. So far, their only option was to take a bus via Changrabandha or a flight from Calcutta. The proposed passenger train service will provide an easier and better option for them to visit Bangladesh."