'Deprived' teachers fast on Teacher's Day
Part-time and whole-time contractual teaching staff of Cooch Behar University BT & Evening College demanded to be approved as State Aided College Teachers (SACT)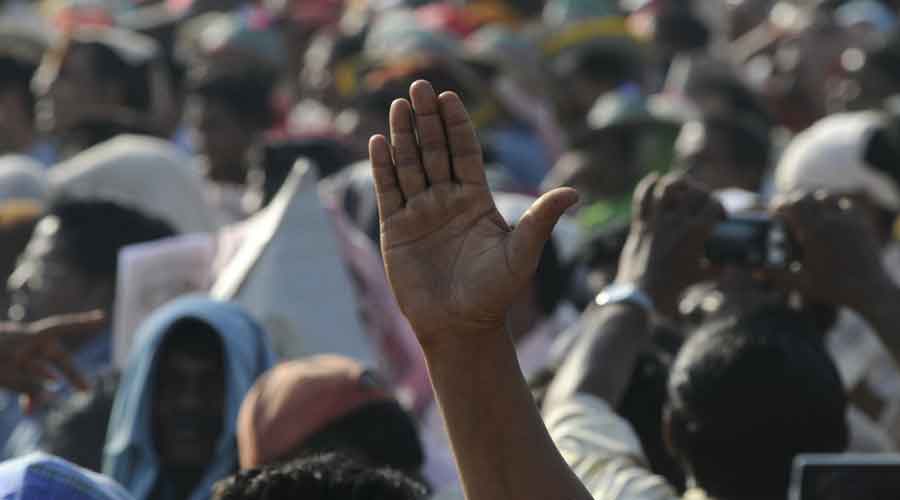 ---
Cooch Behar
|
Published 06.09.20, 02:42 AM
|
---
Part-time and whole-time contractual teachers of Cooch Behar University BT & Evening College, which is affiliated under North Bengal University, organised a daylong hunger strike on Teacher's Day, Saturday.
These teachers were demanding to be approved as State Aided College Teachers (SACT).
A part-time teacher, who did not want to be named, said: "We chose to raise our voice on the very special occasion (Teacher's Day) to highlight how we are deprived."
"There are 21 of us working in the college here as part-time or contractual teacher for the past couple of years," Biswajit Dey, general secretary of the college's part-time and guest lecturer association, said.
On why they were protesting, Dey explained: "Chief minister Mamata Banerjee in August 2019 declared that all teachers in government colleges and government-aided colleges, who are working as part-time or contractual teachers, will be approved as SACT. But despite working as contractual teachers, we are yet to get that approval. This prompted us to organise the hunger strike."
The teachers also said that on July 3 this year, they had demonstrated on the college campus for the same demand.
"We withdrew the demonstration after the college authorities assured us of taking necessary steps (to regularise their services). But still our demand has not been fulfilled," Dey said.
The SACT meeting qualifications set by the UGC and with over 10 years of experience would get Rs 30,000 a month, and those with qualifications but with less than 10 years' experience Rs 26,000, the CM had said in August.
The teachers not fulfilling the UGC criteria but with more than 10 years experience would get Rs 20,000. Those with up to 10 years' experience would get Rs 15,000.