Deocha-Pachami: Clear mismatch between Bengal government's claim and residents, say delegates
The villagers are planning to form a new platform to organise a protest and a group of intellectuals from Calcutta will help them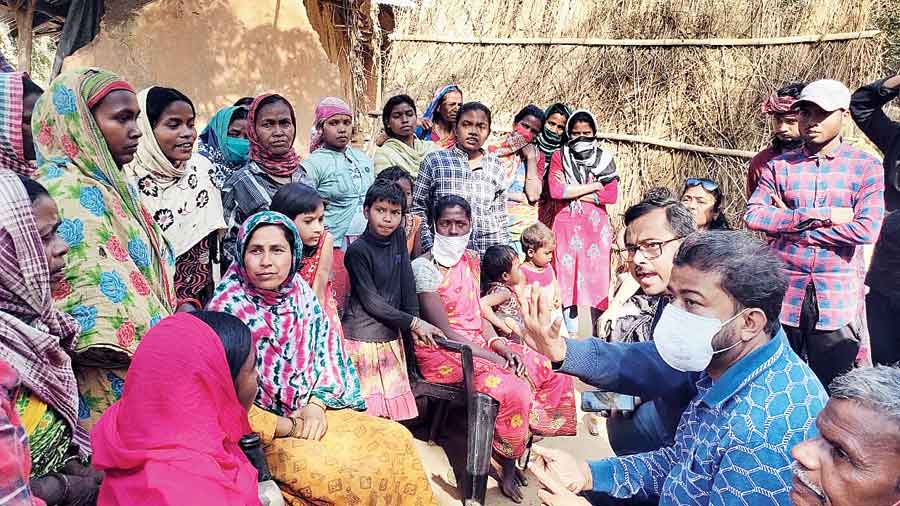 Members of the delegation interact with villagers at Dewanganj in Birbhum's Deocha-Pachami on Friday
The Telegraph
---
Bolpur(Birbhum)
|
Published 09.01.22, 01:45 AM
|
---
A delegation of around 20 persons from various political parties and social outfits from Calcutta on Friday visited at least three villages, including Dewanganj, in a bid to know residents' opinion on the proposed Deocha-Pachami coal mine.
Following a seven-hour tour of the villages, members of the delegation said they had found a "clear mismatch" between the government's claim and the voice of people on the ground.
"We met many villagers, including those from Dewanganj, who had already met the district magistrate on Thursday. The government is claiming that many in the area were giving consents to sell their land but no one has given the final nod. People who are living there have a clear view against the coal mine as they don't want such things to happen there," said Prosenjit Bose, an economist and
Calcutta-based activist who was one of the members of the delegation.
The delegation had on Thursday met Birbhum district magistrate Bidhan Ray, who had claimed there was no question of land acquisition and the government had the "agreement and consent" from the villagers.
Sources said the administration had already received consent of over 500 people of Dewanganj and adjoining areas to part with their plots for the project.
According to the plan of the state government, the coal mine would be started in the first phase from Dewanganj and Harinsingha, where it has around sufficient government land.
An official estimate is that out of 3,400 acres, which will be needed for the entire project, around 1,000 acres are with the government.
The government has reportedly started processing written statements of consent and have assured potential land losers that they will be provided with money for their land, government job and proper rehabilitation.
Abdul Maleque Molla, a state committee member of the Indian Secular Front (ISF) who was one of the team members, said: "After talking to villagers, it was clear that no local resident wanted the project. We will be with the common people to support them. We will also seek legal help if such moves to take away land from the poor go on."
Members of the delegations said the villagers were planning to form a new platform to organise a protest and a group of intellectuals from Calcutta would help them keep their rights to land, water and forests.
Kali Banerjee, Trinamul youth president in Mohammedbazar, however, said: "A section of outsiders is still trying to instigate local people but it will not work. Local
people who had once raised their voices against the mine are now coming up to give their land voluntarily for the project."