Centre's query to Bengal govt over renaming schemes
The release of Rs 4,900 crore under Pradhan Mantri Awas Yojana and Rs 2,700 crore under the Swachh Bharat Mission (rural) for Bengal has been paused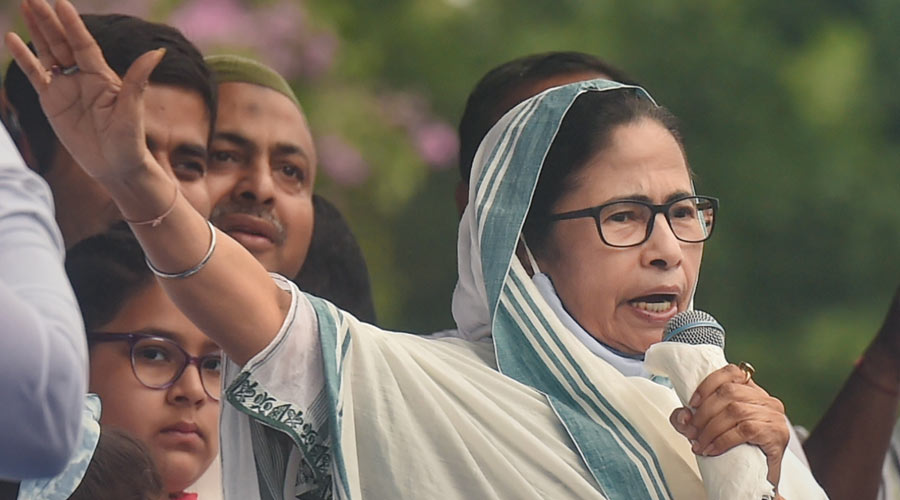 Mamata Banerjee.
File photo.
---
Calcutta
|
Published 16.05.22, 01:11 AM
|
---
The Union government has paused the release of  Rs 4,900 crore under Pradhan Mantri Awas Yojana (PMAY) and Rs 2,700 crore under the Swachh Bharat Mission (rural) for Bengal and sought clarifications from Nabanna on whether the state changed the central schemes' names, said a source.
"We had sent an annual action plan under the PMAY and Swachh Bharat Mission scheme with a demand of Rs 4,900 crore and Rs 2,700 crore, respectively, in January onwards. Every year, the action plans are sanctioned by the Centre by March-end or the first week of April. This year, they sent queries on the change in the name of both the schemes," said a state government official.
Swachh Bharat Mission was launched in 2014 to eliminate open defecation and improve solid waste management across India.
On the other hand, the PMAY was started by the second UPA government to build homes for the poor and it had earlier been known as Indira Gandhi Awas Yojana.
Sources have said schemes like PMAY and Swachh Bharat Mission are implemented on a 60:40 cost-sharing basis, which means the Centre spends 60 per cent while the state bears 40 per cent of the cost.
Multiple sources in the state administration confirmed that the central government had not released the funds under Swachh Bharat Mission, causing a delay in starting solid waste management programmes in around 950 gram panchayats, located in the fringes of urban pockets.
On the other hand, around 41 lakh applications for new houses in rural areas in all 23 districts are pending with the central government.
The state government had written several letters to the Centre, saying it did not "formally" change the names. The state also sent several pictures of completed projects bearing the names of the Union government schemes.
"The state's clarification doesn't seem to have cut much ice with the Centre... In a recent letter from Delhi, a senior official of Union rural development department had said the Bengal government could plan schemes of its own from the state's own funds," said an official.
Sources at Nabanna said the Centre's query on the name change had set jitters in the state headquarters as the Bengal government had changed the names of several projects. The Swachh Bharat Mission is known as Nirmal Bangla Mission in Bengal, PMAY is known as Bangla Awas Yojana and Pradhan Mantri Gram Sadak Yojana (PMGSY) is known as Bangla Sarak Yojana.