Decade-old overhead reservoir maintained by Eastern Coalfields Limited collapses in West Burdwan
Engineers with ECL said the concrete structure, with a capacity of 2.22 lakh gallons, fell owing to constant rainfall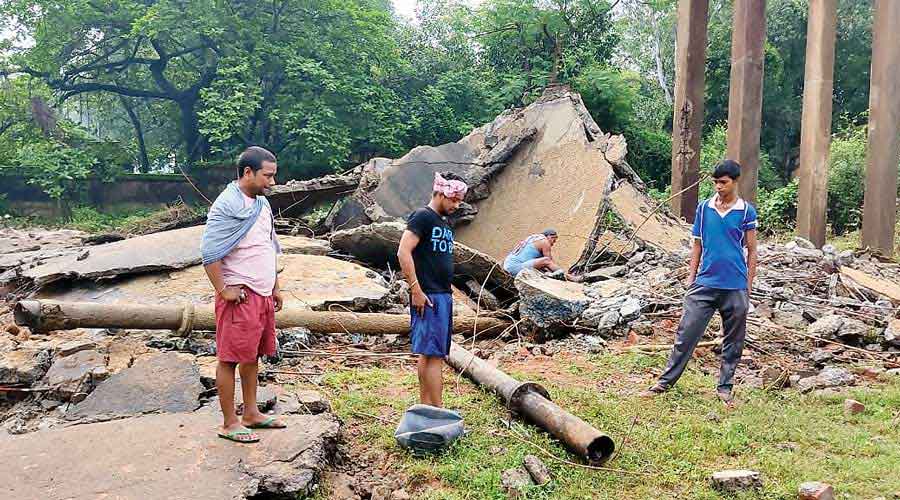 ---
Andal
|
Published 21.06.21, 02:02 AM
|
---
A decade-old overhead water reservoir owned and maintained by Eastern Coalfields Limited (ECL) collapsed on Saturday night in West Burdwan's Andal, disrupting drinking water supply.
Engineers with ECL said the reservoir, with a capacity of 2.22 lakh gallons, collapsed owing to constant rainfall. "The concrete reservoir had weakened with age and it collapsed under the brunt of rain. Luckily, no casualty or injury was reported," said an engineer.
ECL officials said the reservoir was unsafe for use during a recent health study of all overhead reservoirs in the ECL's command areas.
"We decided to construct a new reservoir and demolish the old one after engineers declared it sick. But work could not start during the pandemic. We will start work  soon," said J.C. Roy, general manager of ECL's Kajora mining area.
This triggered a drinking water crisis in the ECL colony, where employees of the coal major stay, and three adjoining villages, though ECL officials said they were supplying water through tankers.
"We aren't getting water since Sunday morning, we are now fetching water from nearby ponds," said a resident at Porashkol village in Andal police station limits.
Another resident Kanhaiya Chouhan said had the incident occurred in the morning, there could have been deaths or injuries as the reservoir was located beside a road.
ECL officials maintained that they had been supplying water in tankers.