Dead fish and turtle on Sarobar water
It was difficult to ascertain whether the they died because of a disease or a drop in the dissolved oxygen level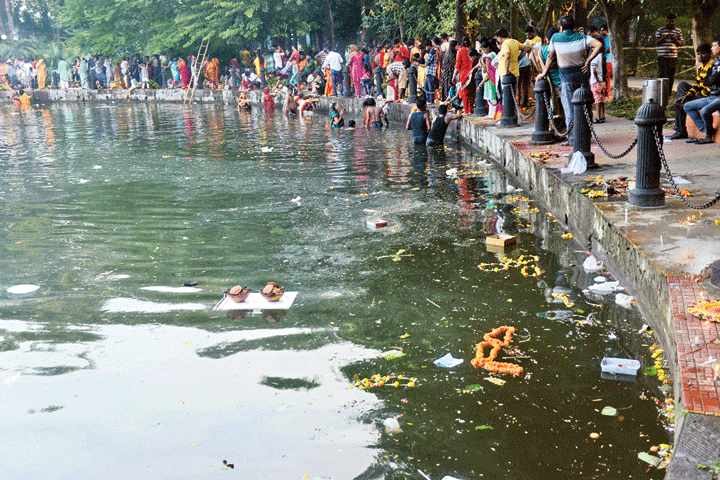 Chhath Puja rituals being performed at Rabindra Sarobar on Sunday.
Telegraph picture
---
Calcutta
|
Published 04.11.19, 09:04 PM
|
---
A dead fish and a dead turtle were found floating on the Rabindra Sarobar water on Monday morning, CMDA officials said, triggering allegations that the deaths were caused by a drop in the level of dissolved oxygen following Chhath Puja rituals.
Scientists, however, said it was difficult to ascertain whether the fish and the turtle died because of some disease or a drop in the dissolved oxygen level.
A senior scientist with the state pollution control board said more aquatic animals would have died had the dissolved oxygen level in the south Calcutta lake declined signficantly.
"Usually, a large number of fish die when the dissolved oxygen content of the water falls below the safe level. The death of one or two animals does not usually signal a fall in the oxygen level," said the scientist.
Another scientist working for the state environment department, however, said the deaths could be the fallout of the assault on the water by worshippers, many of whom poured ghee into and placed oil-filled lamps on the water as part of the rituals on Saturday and Sunday.
"Just like humans, different animals react differently to a given situation. It could be that while others survived, these two died," the scientist said.
Sumita Banerjee, an environment activist and a Sarobar regular, told Metro that she saw six dead fish floating on the water.
Environmentalists had expressed the fear that the oil and ghee would form a layer on the surface of the water, cutting off the supply of oxygen from the air. The scientist associated with the pollution control board said 5mg of oxygen in a litre of water was good for aquatic animals.