Darjeeling woman wins national pageant
First walk on ramp brings laurels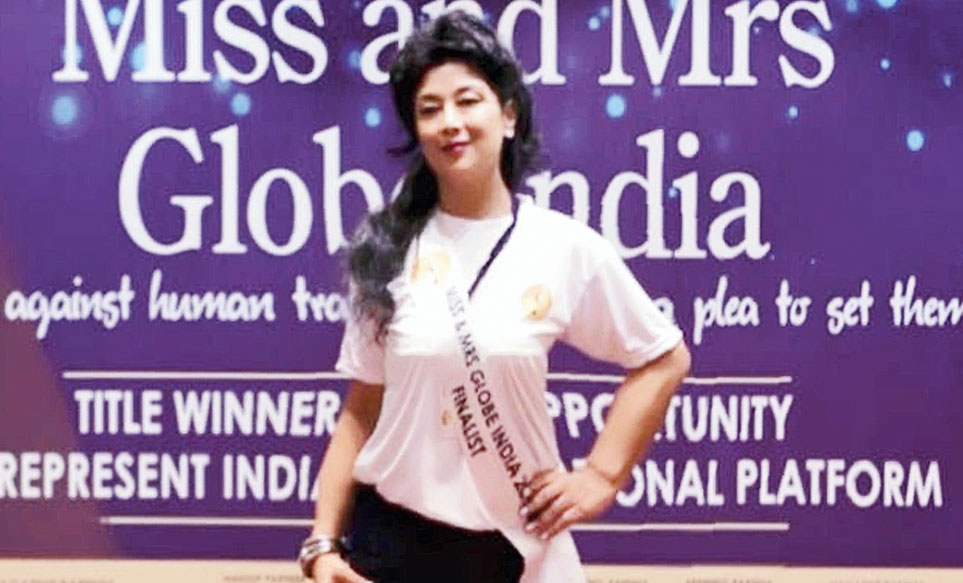 ---
Darjeeling
|
Published 07.07.19, 06:57 PM
|
---
Meenu Khati Gazmer is a welfare counsellor in a tea garden in the hills and is also busy taking care of her 21-year-old son Krishid and 18-year old daughter Krishika. In between, she has managed to walk the ramp and come home with laurels.
The woman participated in a national pageant at Gurgaon on June 29 and won three titles: Classic Queen, Mrs Talented and Brand Ambassador (East).
The contest had nearly 2000 participants in three categories: Miss, Mrs and Classic. Married women above the age of 40 were clubbed in the Classic category. "That was the first time when I walked the ramp. I wanted to prove that if there was a will, one could achieve the world. I wanted to inspire others," said Meenu.
How old is Meenu? "I am classic," she replied, for she believes more in "attitude age" than in "biological age."
She had a "thaili (Nepali pouch)" to compliment her dress and she walked the ramp with khukuri in the hands.
"I wanted to tell the audience that khukuri is one of the rare ancient weapons and it is still used in the modern day war. I could showcase my tradition," said Meenu.
The mother of the two did not participate in the contest just for the glamour quotient.
"The pageant was also organised to create awareness of anti-human trafficking. I want to work in this field," Meenu said.
The other aspect of the competition that inspired her was the platform to showcase the tradition of the place from where she comes. Meenu, who was born in Kalimpong, was married off to a tea garden manager in Kalimpong. She currently stays in Siliguri.
"We had to design our own dress for the tradition and gown rounds in the finale," said Meenu. With the help of self-help groups in tea gardens, she came up with a fusion dress merging Nepali tradition with western style.
"My headgear was inspired by our living Goddess Kumari, a typical Darjeeling-knitted sweater was merged with off shoulder an lantern sleeves from the 1970s. I wore the saree in Nepali guni style with Devanagari script pleats," she said.
The crown winner might have walked the ramp for the first time but her mother, Sheela Devi Moktan, had won the Miss Kalimpong title in the mid-70s. "I was also the first female lawyer to be enlisted in Kalimpong Bar Association in 1995," she added.
Meenu believes that family support is most important. "My husband, Vikas is a tea planter and without his support, I would not have been as successful. Even the kids supported me. My daughter went about with her college admission without involving me for she wanted me to participate in the event."