Shelter under open sky for family
Thousands of residents in South 24-Paraganas, including the Sunderbans, have been left homeless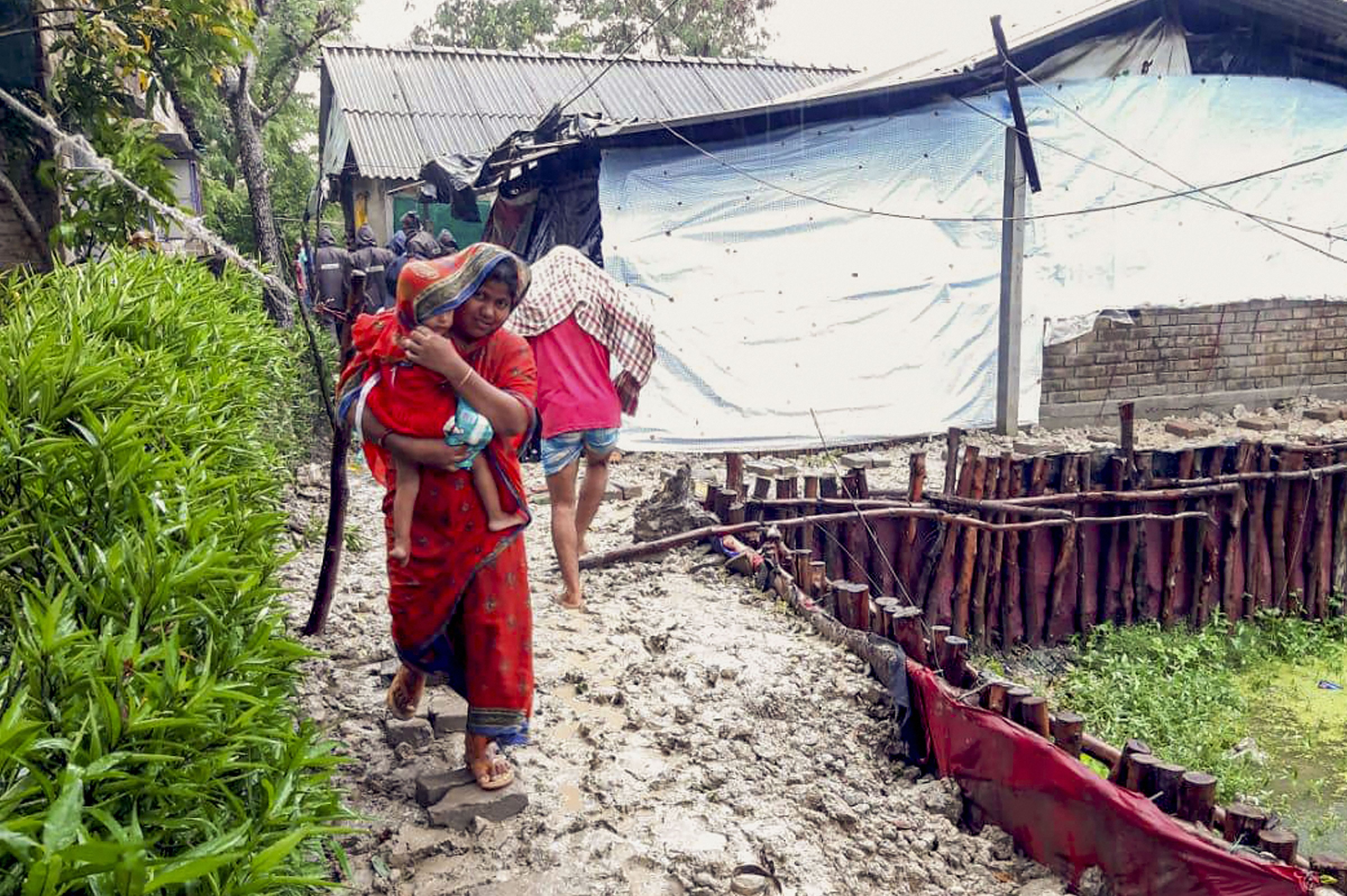 ---
---
Six persons of a family, including an octogenarian couple, at Mathurapur in South 24-Parganas had to spend the stormy night under the sky after a large tree branch almost flew to land on the asbestos roof of their house.
"I was standing in the courtyard when I saw a big branch break off from a nearby tree and fly towards our house. Soon, it plunged through the asbestos roof and injured my wife. We could not take the risk of staying inside and spent the night in the open," said Krishnachandrapur resident and carpenter Kesto Mandal, 40, who lives with his elderly parents, wife, 10-year-old son and a sister.
His father Jagannath, 89, said: "Last night, my wife and I trembled in the cold wind throughout the night on the courtyard. The cyclone was fierce and we held on to each other to avoid falling down."
Kesto's wife Swapna, who was in the house with her son, said: "I lunged forward as the branch was about to fall on my son and I got hurt." Like Kesto, thousands of residents in South 24-Paraganas, including the Sunderbans, have been left homeless.
A district official said assessment was on and so far, the count of damaged houses was 30,000. Sources said most of the houses had been damaged at Kakdwip, Gosaba, Basanti, Patharpratima, and Sagar.
"I have never witnessed such devastation. Not a single mud house is intact," said Jagannath Jana, a retired primary school teacher in Kakdwip.
In East Midnapore, Amphan claimed six lives, including four in Haldia. Two persons were crushed under collapsed mud and brick walls in Contai's Ramnagar and Bhupatinagar. District magistrate Partha Ghosh said while the cyclone had affected more than 22 lakh people, over 2.52 lakh homes had been damaged in the district.
In Hooghly's Chinsurah, Sanjib Poddar, 35, died when a tree fell on his mud house.
A similar incident killed Parshuram Yadav, 62, in Hooghly's Banshberia.
Additional reporting by Anshuman Phadikar and Subhasish Chaudhuri