Countless homes flatted: District-by-district sitrep
Residents of the Sunderbans said Amphan had been far more destructive than Aila in 2009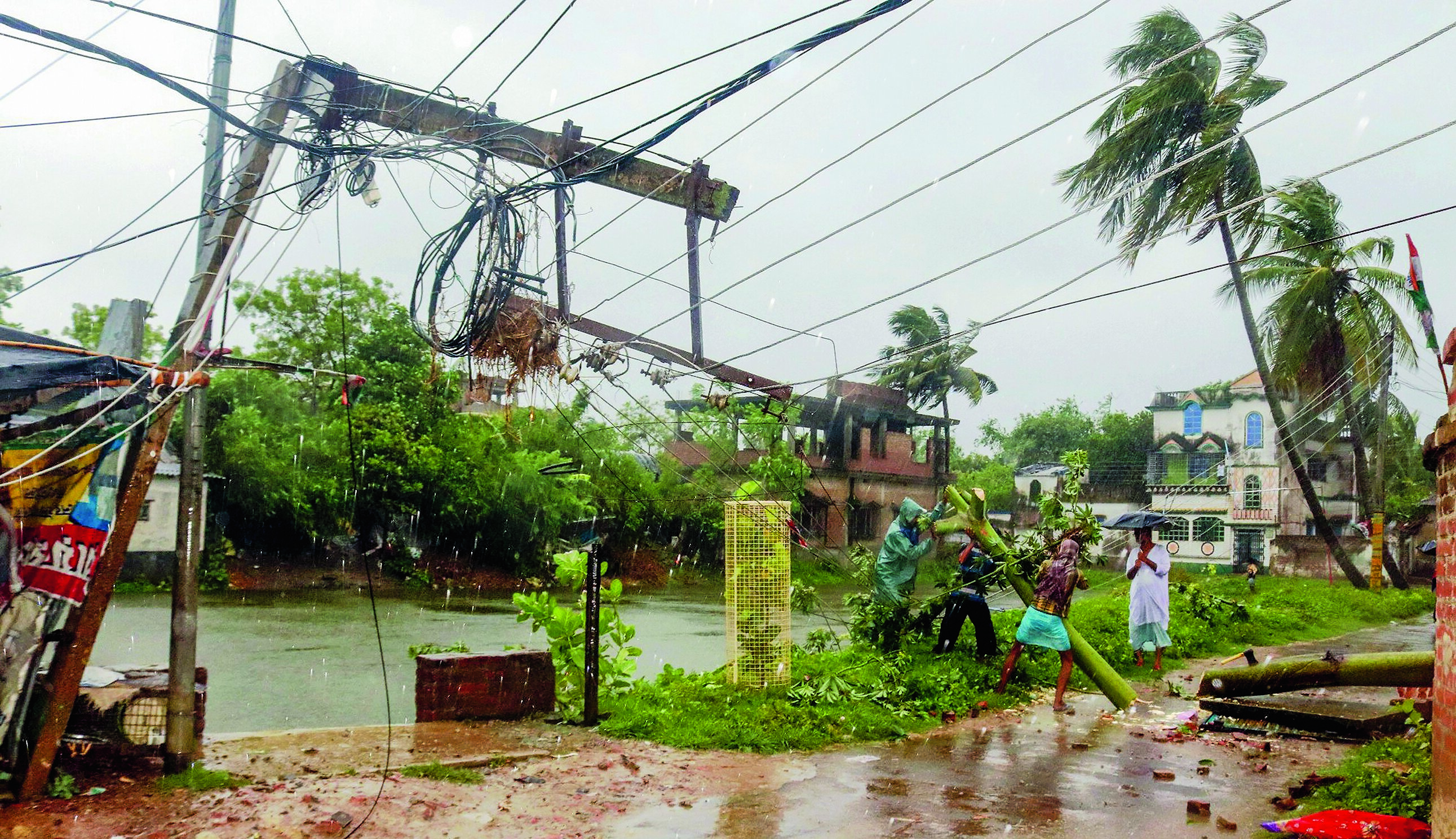 Workers try to restore a power line in Burdwan after a tree fell on it during the cyclone on Wednesday.
(PTI)
---
Published 20.05.20, 10:35 PM
|
---
Cyclone Amphan was clocking 165kmph when it made landfall at Sagar Island at 2.35pm on Wednesday.
It ripped through several south Bengal districts causing what Mamata Banerjee said were '10 to 12 deaths' and damaging hundreds of crores worth of property and crops. The Telegraph takes a look at the devastation:
South 24-Parganas
Thousands took shelter in schools and other concrete buildings as a large number of mud houses in areas such as Patharpratima, Gosaba, Mathurapur and Krishnachandrapur were damaged.
Hundreds of trees were uprooted as the storm gathered intense speed by evening.
Residents of the Sunderbans said Amphan had been far more destructive than Aila in 2009.
'This is the worst cyclone in living memory. The |wind speed was so high that people couldn't move from one place to another,' said Chandan Maity, headmaster |of Krishnachandrapur High School.
'Only in the morning will we be able to gauge the extent of the devastation. Thousands of homes have been flattened.'
Maity's school was sheltering about 350 people who had lost their homes.
A jetty on the Buriganga river collapsed at Kachuberia village.
District officials said several river embankments in the Sunderbans had been washed away or breached, and several areas were flooded.
'It's difficult to assess the loss of property and crops right now. But according to reports, the entire Sunderbans have been affected,' an official said.
A preliminary assessment indicates that over 2,000 thatches dwellings have collapsed in Bakkhali, Frasergunj, Namkhana, Sagardwip and Diamond Harbour.
District magistrate P. Ulganathan said: 'Personnel from the NDRF (National Disaster Response Force) and SDRF (State Disaster Response Force) have been sent to these places for rescue operations.'
East Midnapore
Amphan took a severe toll on the district, raging over its coasts for nearly five hours, which officials said was longer than expected.
They said the cyclone, initially predicted to pass through Digha first, largely spared the tourist town but roiled Haldia and Tamluk.
'More than 50,000 mud and brick homes in the area have been severely or permanently damaged. Almost all tin roofs have been blown away,' a disaster management official said. 'Cellphone networks are mostly down.'
The storm ravaged the industrial infrastructure in the port town of Haldia, officials confirming that the chimneys of at least one major rice mill had been permanently damaged.
Electricity poles and lines began collapsing in strong winds in Haldia from morning. By afternoon, several vehicles had been severely damaged.
Sources in the NDRF said rescue personnel had reached Haldia and were clearing uprooted trees off the highways. Digha did not report major damage.
Officials said Jelingham in Nandigram and Sankarpur were severely affected too. A woman was crushed to death in Jelingham when the wall of her mud home collapsed, they added.
'The cyclone reached East Midnapore shortly after 2.30pm and continually gathered strength. It reached speeds between 120kmph and 140kmph and stayed longer than expected,' said disaster management official Mritunjay Haldar.
District officials had shifted about 70,000 residents of the district's coastal zone into cyclone relief shelters by Wednesday morning.
'Amphan has caused 10 times more damage than last year's Fani,' transport minister Suvendu Adhikari, who was in Digha, told reporters.
'Nandigram has witnessed severe damage.... According to preliminary reports, embankments have been damaged at Jelingham and Sankarpur.'
District officials said the paddy and mango crops would have taken severe hits.
North 24-Parganas
The coastal areas of Sandeshkhali, Hingalganj, Minakha, Haroa and Hemnagar were hit.
State food and supplies minister Jyotipriya Mullick said a preliminary assessment indicated that over 5,300 dwellings had collapsed in the Basirhat subdivision.
High tidal waves damaged several thatched dams over the Ichhamati, Kalindi, Rai Mangal and Sahebkhali rivers on the coastal belt close to the Sunderbans, prompting the local administration to repair them immediately.
Two people were injured in Haroa when a tree under which they had taken shelter fell on them. At least four policemen were injured when a tree collapsed on the Barasat police station premises.
Earlier, over 100 people had staged a protest on the Basanti-Sonakhali Road saying they had not been provided accommodation at the local cyclone shelter.
Hooghly
A 500-year-old, two-storey building collapsed in Serampore town after a tree fell |on it. However, no one was injured.
Power supply was disrupted in most places of the district - including Chinsurah, Serampore, Khanakul and adjoining areas - as the cyclone damaged around 30 transformers and at least two dozen trees collapsed on power lines. The district has opened 47 relief centres, some of them in schools.
E. Burdwan, Birbhum
Several trees were uprooted in Burdwan town, at Kalna in East Burdwan and in Santiniketan, Birbhum. Power snapped at several places in the two districts after trees fell on overhead power lines.
Kanika Das, 40, was electrocuted in Phulia village, Kalna, after she touched a live electric wire that had snapped in strong winds, sources |said.
Visva-Bharati kept a crane on standby to remove any tree that fell near a heritage building, such as the houses of Rabindranath Tagore and the Upasana Griha, which is mostly made of glass.