Amphan damper for hilsa-bounty hope
Only around 15% of the trawlers could hit sea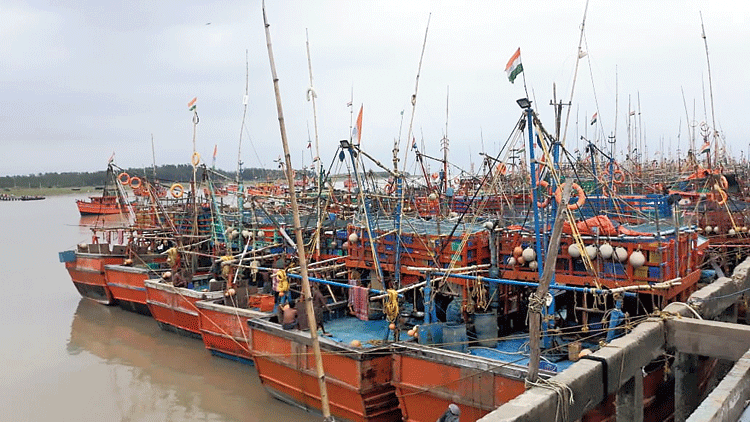 ---
|
Digha
|
Published 15.06.20, 10:24 PM
---
Prized delicacy hilsa is likely to be in short supply this year, dashing the hopes of a better catch in cleaner rivers because of the lockdown.
Hilsa fishing formally resumed on Monday here — after the annual two-month ban from mid-April to promote breeding — but only around 15 per cent of the trawlers could hit the sea.
Most trawlers of East Midnapore and South 24-Parganas fishermen are damaged by cyclone Amphan that hit the state on May 20.
Though the state government compensated fishermen with damaged trawlers, repairmen are in short supply. So most trawlers are docked.
A fisherman from Kakdwip, in the coastal belt in South 24-Parganas that was devastated on May 20, said they anticipated more hilsa — which lives in the sea but goes to the river to spawn — to flock to the rivers this June as the Covid-induced lockdown meant less effluents in the water.
"But we can't take advantage of this when a bulk of our vessels and fishing nets are damaged by Amphan," the fisherman said. "We can't access the fish." "It is ironic that though there may be more hilsa near the shore because of calm waters during the lockdown, the cyclone dashed our hopes," said another fisherman from Namkhana.
A source in the fisheries department in East Midnapore's Digha said only 10 per cent of the district's trawlers were seabound on Monday, the first day of the season. A source in the South 24-Parganas said 20 per cent of trawlers in the district had ventured into the sea on Monday.
A member of the Digha fishermen's association said most repairmen were from Odisha and Andhra Pradesh. "We are at a loss until there is a full unlock," he said.
"Less than half the trawlers in the South 24-Parganas coastal zone are ready to sail. We can't do anything but wait. Sadly, the fish might be gone by then," added Kakdwip Fishermens' Welfare Association secretary Bijon Maity.
Deputy director of fisheries (marine) Surajit Bag said: "We are set for another poor hilsa yield this year, though it could have been the opposite."
The other major hurdle for fishermen is the decision to keep the Digha wholesale fish market closed till at least June 30. The market was set to open on Monday, but residents objected to it fearing the spread of Covid-19 from the 15,000-odd buyers from across Bengal and other states who gather here to procure stocks, said a market commitee member.