Cut to size to fit pockets
Average size of apartments shrink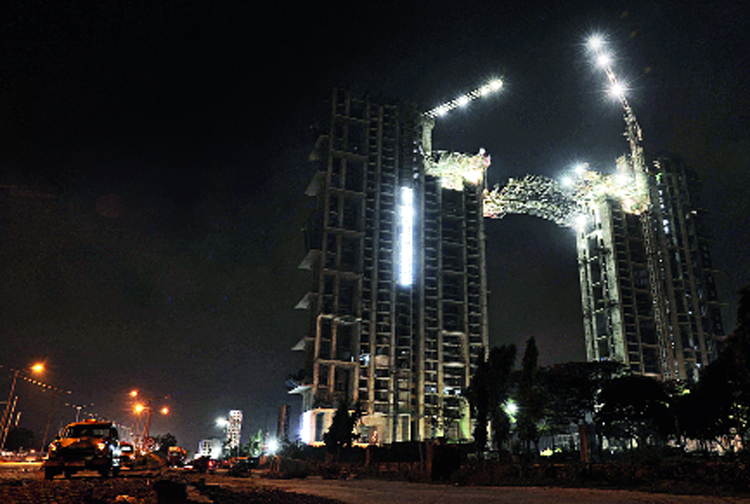 ---
Calcutta
|
Published 13.03.19, 11:55 AM
|
---
Builders in Calcutta have cut the average size of apartments by almost a quarter over the past five years to fit the budget of buyers as the real estate industry continue to face a sale slump and price freeze.
The city only trailed the Mumbai Metropolitan region among all major cities in India to give up expansive apartments at the altar of compact development as developers try to strike a fine balance between aspiration and affordability, a study by Anarock Property Consultants showed.
The average size of homes slumped to 950 square feet in 2018, down by 23 per cent, from 1,230 square feet in 2014 (see chart), compared to the national average of 17 per cent. Even though the study usually tracks organised developers, anecdotal evidence suggests local builders have also emulated the trend.
"You have to meet the buyer's aspirations without overlooking the EMI outgo. This is a fine balance but whoever can achieve this will be able to sell even in this market," Harsh Patodia, the chairman and managing director of Unimark Projects, said.
Apart from several affordable projects on the outskirts of Calcutta, Unimark is also building Trump Tower, in consortium with other developers.
Launched in end 2017, the aspirational project on EM Bypass, bearing the name of the US President, offers a unit size from 2,500 square feet and a price range from Rs 3.5 crore.
A few hundred yards away stands Atmosphere, one of the most iconic residential projects in recent times in India, where buyers need to shell out northwards of Rs 10 crore to acquire a luxurious condo that spans over 7,500 square feet. The project was conceived in 2011.
"You have to respond to the demand of every micro market. What may fit Mumbai may not suit Calcutta," he pointed out.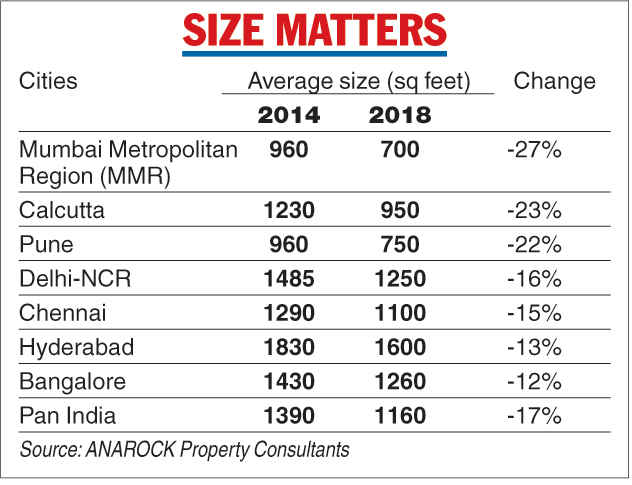 How developers have bowed to market dynamics is also on display on Chowringhee Road. The 42, the tallest structure to come up in the city, boasts apartments sized around 7,500 square feet. Conceived sometime in 2015, residents on each of the 65 floors will have three-side panoramic view of the Victoria Memorial and the Maidan.
When the developers, who have an adjoining plot behind The 42, that opens up to Little Russel Street, proposed another high-rise building, they decided to offer a compact size of 3,500-4,000 square feet for the market.
Amarnath Shroff, the chairman of Alcove Realty and a co-developer of The 42, said the move was aimed at catering to a larger section of buyer.
"Developers must respond to the market. In our affordable housing development at Serampore in Hooghly, we are offering flats from 500 square feet also," Shroff pointed out.
The Anarock study says the affordable housing segment — units selling below Rs 40 lakh — witnessed most savage cut where unit size went down by 23 per cent. However, builders focused on compact design trying to ensure every square foot is gainfully utilised.
Arya Sumant, the managing director of Eden Realty, said he sold over 1,000 flats in less than a year in Serampore.
"We try to assess what the market can afford and then sit down to design a project. You will not find any dead space in any of our flats," he claimed.
According to Sumant, all his affordable projects are less than 40 metres tall, saving on required space for lobby and staircase. Moreover, flats provide hanging wardrobe, which falls outside allowable built-up area. "These small tweaks add up to make a big difference," he said.
The Anarock study revealed that mid-segment flats (Rs 40-80 lakh) witnessed the least reduction while luxury apartments saw around 20 per cent reduction.
"Another reason for shrinking apartment sizes is that most millennial homebuyers are averse to investing in both the higher maintenance costs and extra efforts that larger properties entail," Anuj Puri, the chairman of Anarock Property Consultants, wrote in the report.