West Bengal Assembly election: CPM to hit campaign trail with Manik Sarkar video
The party has a plan to show it at remote villages where BJP is luring people with 'false assurance' and polarising the society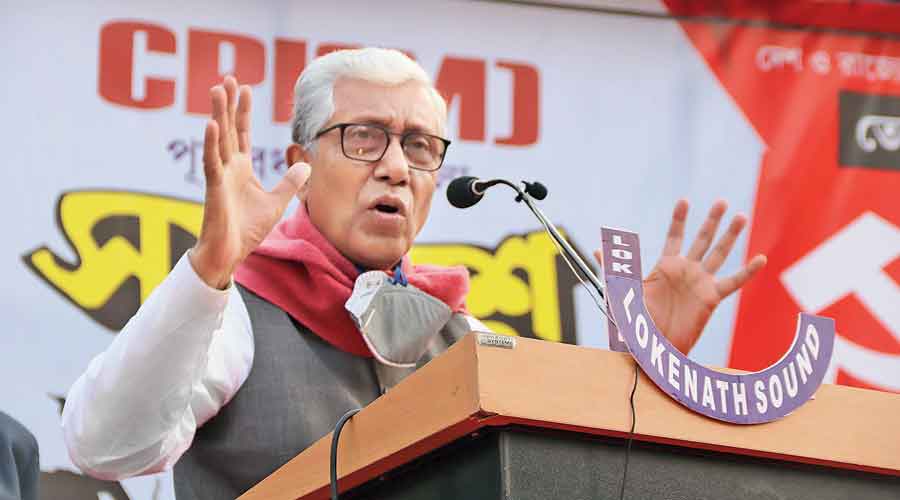 Sarkar at the Burdwan rally
File picture
---
Burdwan
|
Published 04.02.21, 02:11 AM
|
---
The Bengal CPM will use former Tripura chief minister Manik Sarkar's Burdwan speech on Tuesday as a campaign tool in the coming Assembly polls to alert people to the situation in the north eastern state after the BJP came to power in 2018.
The party took the decision after Sarkar's elaborate explanation of the situation in Tripura drew a lot of interest within the CPM and beyond.
"We have already asked our youth leaders to prepare a compact video clip of the party's politburo member Manik Sarkar on what he told about Tripura and how he warned the people of Bengal about the danger of bringing the BJP to power. We will hold small meetings at villages and play the video," said Amal Haldar, state secretary of the All India Kisan Sabha.
"We will start the campaign from East Burdwan first and later in the entire state," said Haldar.
While addressing over 10,000 people in Burdwan town, the politburo member had urged them to take a train to Tripura and interact with rickshaw pullers and grocers to learn from them "what a blunder they committed by voting the BJP to power". He also alerted people that the BJP was following the Tripura model in Bengal.
"After his speech, many of our common supporters told us that his words touched their hearts. We also think people should know about the BJP from the horse's mouth like Sarkar. We believe his words will be an advantage as he is from Tripura," said a CPM state committee member.
CPM sources said a group of youth leaders had already started working on audiovisual campaign material with Sarkar's speech on how the BJP lured the people of Tripura with false assurances.
The party has a plan to show the video at remote villages where BJP is luring people with "false assurance" and polarising the society.
"We have formed three groups in Burdwan and they will move to different places and install projectors to show Sarkar's speech," said Binod Ghosh, a CPM district committee member in Burdwan.
We will prepare an audio file also but our goal will be to campaign by using the video of his speech as its impact is better. We will start such campaigns this week."
"As the entire speech is in Bengali, it would help us communicate with the common people on the ground," he added.
Singur
CPM leader Sujan on Wednesday symbolically laid the foundation stone of industry at Singur where the Left Front government had invited Tata Motors to set up a small car factory. Chakrabarty, who attended a rally in Singur, also said if the LeftCongress alliance won power in Bengal, the first cabinet meeting would be held on the Singur land.