CPM's Yechury backs Mamata's claim of outsiders at Amit Shah's road show
CPM leaders participated in a protest rally and condemned outright the vandalism and violence that took place on Tuesday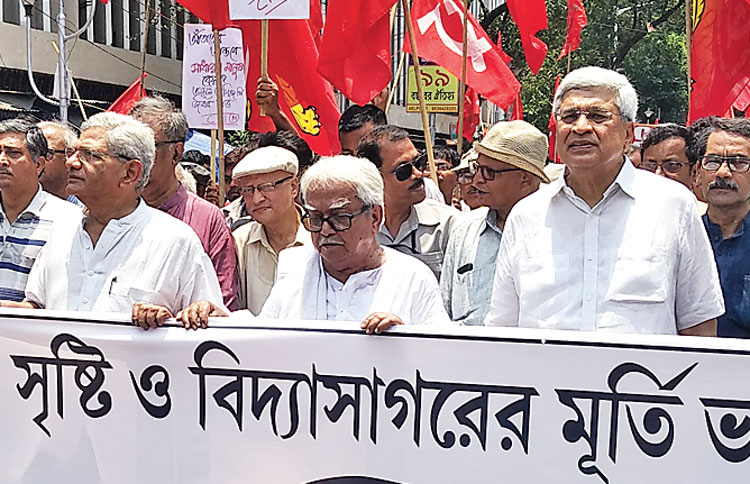 The CPM organised a march in Calcutta on Wednesday to protest against the vandalism at Vidyasagar College.
Picture by Pradip Sanyal
---
Calcutta
|
Published 15.05.19, 11:31 PM
|
---
CPM general secretary Sitaram Yechury on Wednesday appeared to second Mamata Banerjee's claim that the BJP had mobilised people from other states to participate in Amit Shah's road show in Calcutta the evening before.
Yechury told a news conference at Alimuddin Street: "Trinamul had claimed that the BJP had brought outsiders for yesterday's road show. It appears when all of you had interviewed them on television… not a single one could speak Bengali. It was very clear that they were from somewhere else."
The CPM leader, whose mother tongue is Telugu, added: "They cannot even speak the kind of Bengali I speak."
Speaking about the violence on the Vidyasagar College campus, where a statue of Ishwarchandra Vidyasagar was broken, Yechury said: "I along with other Left national leaders in Calcutta participated in a protest rally and condemned outright yesterday's attack."
The Left had organised a "Vidyasagar Mela" for the last two decades of its rule in Bengal, but it was discontinued during Mamata's regime, he said.
The CPM leader demanded immediate submission of the CCTV footage recorded by the Election Commission of India of Shah's road show for identification of the culprits.