The mysterious position of the CPI(M)
Perhaps the party and its leaders are not too good at arithmetic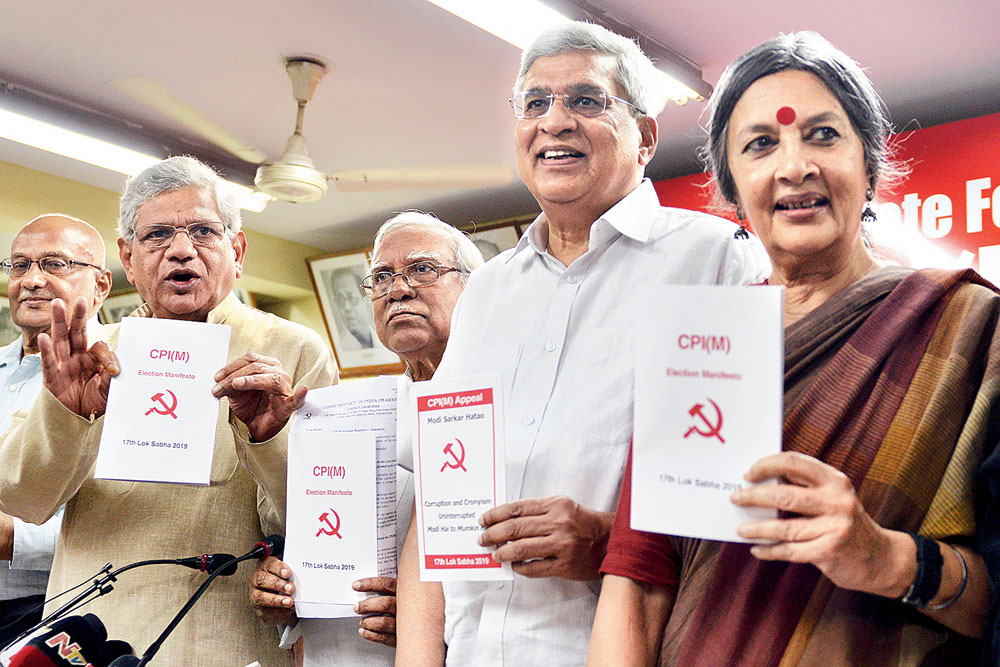 CPM general secretary Sitaram Yechury (left), Brinda Karat(right) and Prakash Karat(second from right), and others release the party manifesto in New Delhi ahead of the Lok Sabha elections.
(Picture by Prem Singh)
---
Published 13.05.19, 03:41 AM
|
---
Drama in real life is discovered in unexpected places. After 34 years of uninterrupted rule in West Bengal and a gap after that, the Left Front, specifically the Communist Party of India (Marxist), is fighting to make itself visible in the 2019 Lok Sabha elections. Few cycles of history have been more dramatic than that. But such drama can make a party rather sensitive. Party leaders in West Bengal did not take kindly to the remark of the former general secretary of the party, Prakash Karat, on a Malayalam television channel, that he thought the Bharatiya Janata Party would increase its strength in Bengal this time. Mr Karat's assessment seemed to imply that the CPI(M) has lost ground in the state, an idea that would demoralize the CPI(M) workers who, say their leaders from Bengal, are fighting hard to resist the twin dangers presented by the BJP and the Trinamool Congress. The Bengal unit led by Surjya Kanta Mishra conveyed its anger to the party headquarters, for, as a member said later, the party is very anxious to remove the impression that the CPI(M) is not in the fight in Bengal. Mr Karat then explained how his remark had been taken out of context and misunderstood; all he meant was that the Congress would not be able to reach three figures in Parliament and the BJP would increase its tally in Bengal; but there would be a non-BJP government. From this fascinating explanation, Mr Karat further said — he has submitted a written statement to the politburo to this effect — that the TMC and the BJP have been trying to polarize the electorate in Bengal in order to corner the Left. The Left is fighting whole-heartedly against these two forces. Mr Karat also does not believe that the BJP will be able to make up the seats lost elsewhere from Bengal or Odisha.
The bewildering twists and turns of the explanation represent the mysterious position that the CPI(M) has taken. Perhaps the party and its leaders are not too good at arithmetic. How is the war against two 'fascist' forces, fought simultaneously on the same ground, meant to work out? In 2014, the party won two seats in the state. Its vote percentage since 2016 has been at an all-time low. The incitement to win is good, but that must be based on practical strategies, not wishful myths. Or maybe the strategic calculations are secret. Else Mr Karat would not have said, as he did later, that the CPI(M) would have a role in building the next government. Drama is always present in real life.