CPM's Yechury slams attack on Bengal heritage
The party general secretary blamed the BJP but did not spare the Trinamul Congress in a series of tweets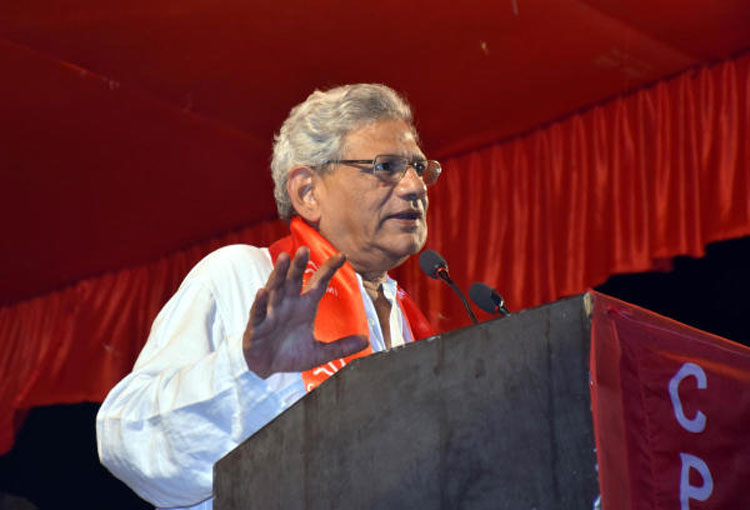 Sitaram Yechury
A Telegraph file picture
---
Calcutta
|
Published 14.05.19, 11:33 PM
|
---
CPM general secretary Sitaram Yechury condemned the violence in Calcutta on Tuesday, blaming the BJP but not sparing the Trinamul Congress either in a series of tweets.
"Vidyasagar was conferred the title of the ocean of knowledge. A leading figure in the Bengal renaissance, he stood for progress, pathbreaking reform and enlightenment. It is very clear why the Sangh parivar would seek destruction of his ideas," Yechury wrote.
The Vidyasagar College campus was vandalised and his bust smashed in violence that erupted during BJP president Amit Shah's road show on Tuesday evening.
"BJP-RSS think nothing of when they vandalise the historic Vidyasagar College, break Vidyasagar statue. This is their advocacy of India's civilisational heritage? Attacking knowledge is central to getting their poisonous project going. Bengal will reject the destruction they offer," Yechury tweeted.
The CPM leader further wrote: "Both TMC and BJP in Bengal today are hell-bent on negating the heritage and ethos of Bengal."
He asked: "By this ugly show in the capital of Bengal, do BJP and TMC think they will win support? It is an act of desperation where they have both revealed their destructive and unacceptable agenda for Bengal. Eta cholbe na, chala uchit na. (This will not, should not be allowed.)"