CPM drove Tata out: Mamata Banerjee
Our movement was against land acquisition, says CM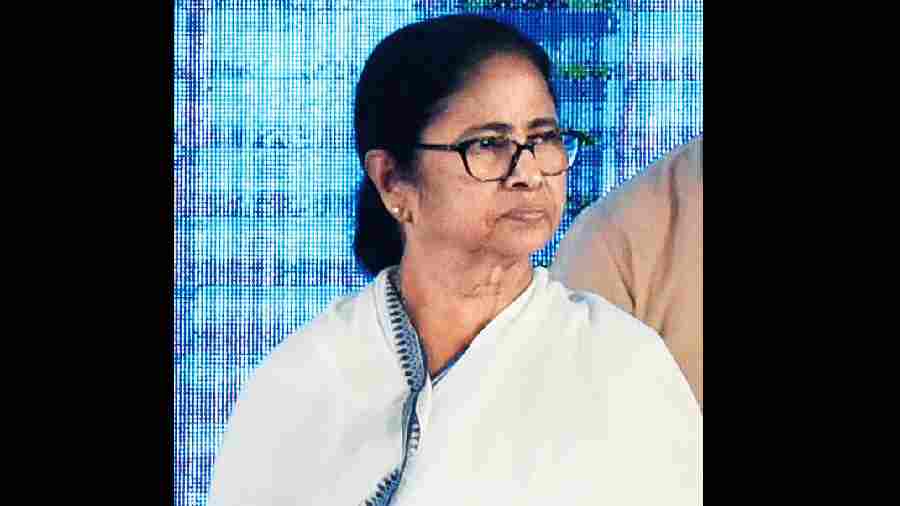 Mamata Banerjee
File Photo
---
Published 20.10.22, 12:44 AM
|
---
Mamata Banerjee on Wednesday said she or her party had no role in driving Tata Motors out of Singur and blamed the CPM for the company's exit from Bengal.
The Bengal chief minister didn't mention Tata Motors or Singur — the ground zero of the anti-land acquisition movement in Bengal that catapulted the Trinamul Congress to power in 2011 — even once.
"I didn't drive away the Tatas. It was the CPM which did it. We had organised the movement against forcible acquisition of land and in due course, we returned the plots to farmers. There was no dearth of land in the state.... We also acquired land for different projects but didn't resort to coercion ever," said the chief minister while addressing a Vijaya Sammilani at the Kawakhali Ground here on Wednesday.
Mamata's sudden reference, though obliquely, to her movement against the land acquisition for the Nano car project at Singur, a source close to her said, betrayed her growing unease with Opposition allegations about the Trinamul government's failure to draw any big-ticket investment to Bengal since 2011.
The source said Mamata was right in countering the Opposition charge as the Supreme Court had in 2016 held the land acquisition process for the Nano plant was illegal.
"We do not discriminate against industrialists and want them to invest in Bengal as it would lead to the creation of employment. We are coming up with major projects like the Tajpur port and the Deocha-Pachami coal mine," she said on Wednesday.
CPM leader Sujan Chakraborty said people of the state would never buy her theory. "Everyone remembers who blocked the national highway and who wanted the Tatas to leave Singur. Ratan Tata himself had said Mamata Banerjee had placed a gun on his forehead.... She should stop lying," he said.
The BJP, on the other hand, termed Mamata's statement as an attempt to shift people's focus, particularly after recent scams.
"This is just an effort to shift the focus from all that is going against her government. What she said was done after much deliberation. Anyway, people in Bengal remember that it was her party that had even called for a boycott of Tata products in the wake of the Singur movement," said state BJP spokesperson Samik Bhattacharya.
(Additional reporting by Arkamoy Datta Majumdar in Calcutta)