CPM and other Left parties to resist wider NRC
Sitaram Yechury: exercise meant only for Assam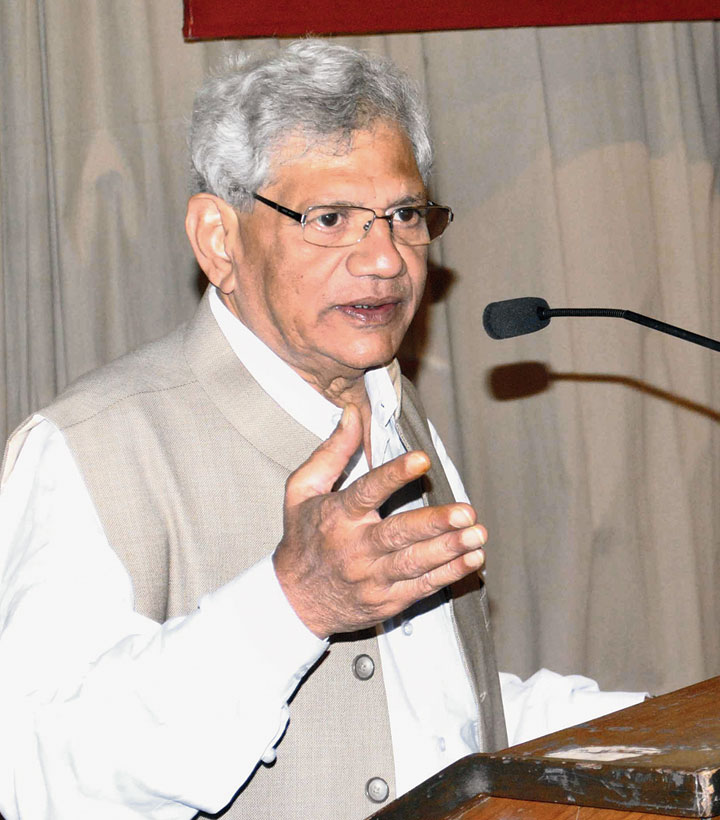 Yechury delivers the lecture in Siliguri on Wednesday
Passang Yolmo
---
Siliguri
|
Published 23.10.19, 08:28 PM
|
---
The CPM and other Left parties will resist the BJP's plans to introduce NRC (National Register of Citizens) in Bengal and in other parts of the country after Assam, CPM general secretary Sitaram Yechury said here on Wednesday.
"NRC was introduced in Assam as per the Assam accord and the exercise was carried out under the supervision of the Supreme Court. But NRC cannot be extended beyond Assam and if any such attempt is made, we will resist it. It would be absolutely wrong to launch it in other states," Yechury said at the Ratanlal Brahmin Memorial Lecture.
Brahmin was one of the prominent CPM leaders of Darjeeling district and a former MP.
"Some people are saying they want to remove illegal immigrants but there is no guideline on how these people can be identified. They are simply targeting a community and indulging in polarisation," Yechury added.
The CPM general secretary also came down heavily on the Centre and the BJP over the Citizenship (Amendment) Bill. "Through this bill, they are also planning to alienate a particular community. It is a threat to the Indian Constitution and violates the basic tenets of the Constitution — the fundamental rights. In our country, citizenship is granted not on the basis of religion but some people are trying to change it," Yechury said.
Later, talking to journalists, the CPM leader expressed concern over the rise in attacks on migrant workers in some states. "Such incidents are happening in states like (BJP-ruled) Maharastra and Assam. It is unfortunate that people have to face such situations in their own country."
Yechury's statements come at a time Trinamul and the Congress have accused the BJP of using the NRC issue to polarise people.
"Though the NRC has been carried out in Assam, it had repercussions in Bengal,particularly in areas closer to the neighbouring state. There have been deaths (in Bengal) due to panic over NRC. Along with Trinamul and the Congress, the CPM has taken the same line," said a political observer.
In his lecture, Yechury also criticised the Centre's economic policies — flagging the current recession in particular — and the clampdown in Kashmir. The democratic rights of people have been infringed and the BJP is making false propaganda on the issue, he said.
"They have changed a state into two Union territories and have spoken about removal of special status.
But there are 12 other states in our country which have special status of some kind or other. It was said that outsiders can't buy land in Kashmir but the same holds true in Uttarakhand and Himachal Pradesh, where the BJP is in power, and also in some other states of the Northeast. They are just making a false propaganda before the people of this country," said Yechury.