Covid: Restrictions between India-Bangla borders put Bangladeshis in a quandary
A large number of them gathered at the Petrapole immigration centre on Monday morning and they were not allowed to enter their country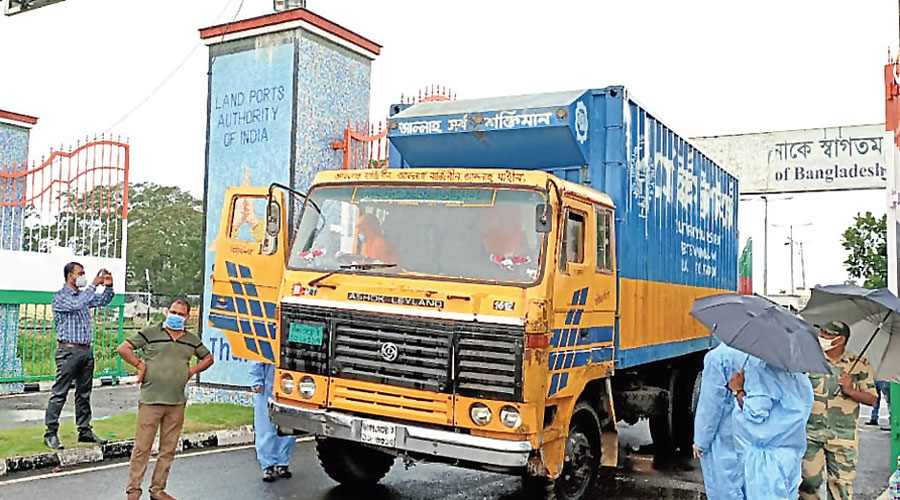 A truck from Bangladesh being sanitised on the border near Petrapole.
File photo
---
Petrapole
|
Published 27.04.21, 01:21 AM
|
---
The sudden restriction on movement of people through land borders between India and Bangladesh put hundreds of Bangladeshis — most of whom had come to Calcutta on medical visa — in a quandary as they were not allowed to enter their country through the Petrapole-Benapole border on Monday.
On Sunday, the Bangladesh Deputy High Commission in Calcutta issued a circular — following instructions from the foreign ministry in Dhaka —announcing that movement of foreigners and Bangladeshi citizens through all common borders between the two countries would remain suspended for two weeks from April 26 to May 9 "in view of the recent upsurge of the second wave of Covid-19" in Bangladesh and India".
The circular also stated that Bangladeshi nationals whose visa was close to expiry within the suspended period would be allowed to return on submission of a Covid negative report and subsequently by obtaining a 'No Objection' certificate from the Deputy High Commission's office in Calcutta.
Unaware of the sudden change in the immigration norms, a large number of Bangladeshi nationals gathered at the Petrapole immigration centre on Monday morning and they were not allowed to enter their country.
"I came to know about the order only early this morning. A large number of people from Bangladesh came to India on medical visas. Our Deputy High Commission should have alerted us ahead with at least two days' time so that we could have enough time to return. But people mostly accompanying patients don't know where and how they would stay during this suspended period," said Mohammed Habibur Rahaman, a Bangladeshi who reached India for the treatment of one of his relatives.
"I appeal to the Bangladesh government to be kind enough and to allow us a minimum time to return home to save the life of the patients whom we brought to India for treatment," Ramahan added.
Another Bangladeshi citizen said: "Many of us are also running out of money after paying the cost of treatment as they came with serious patients. How could our authorities be so unkind to these patients?"
The Bangladeshi nationals repeatedly appealed to the Indian Immigration authorities to take up their matter with the counterparts in the neighbouring countries. Tarun Biswas, chief immigration officer at Petrapole, said: "We are helpless. It is the Bangladeshi authorities who sealed the border."
An official at the Bangladesh Deputy High Commission in Calcutta said: "We have no directive for allowing people in general to cross the border. Only in some exceptions may permission be granted to return. People with visa expiring shortly will be considered to return on obtaining no-objection certificate and following the Covid protocol."