Science City and planetarium, too, closed
Closed to visitors from Sunday to March 31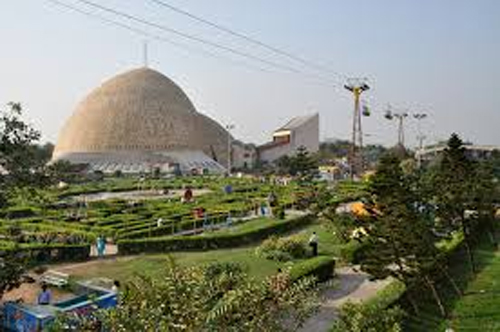 ---
Calcutta
|
Published 14.03.20, 09:51 PM
|
---
Science City and the Birla Industrial and Technological Museum (BITM) will remain closed to visitors from Sunday to March 31, or further notice.
The announcement for the two facilities popularising science and technology under the National Council of Science Museums was made on Saturday in view of the coronavirus scare.
"Since avoiding assembly of a crowd is required to contain the disease we decided to shut down," Subhabrata Chaudhuri, Science City director, told Metro.
Science City had been following preventive measures for some time. "We had reduced ticket sales to 60 per cent of capacity and were allotting the seats in a scattered fashion. The 3D screenings were suspended for Space Theatre and Time Machine as they involve wearing reused 3D glasses. The shows were being run in 2D which is a non-contact version," Chaudhuri said.
"The gap between shows was increased so that we could disinfect door handles and other items of mass contact. Our members of the staff have been given masks and disposable gloves."
An awareness initiative in the form of an exhibition was on at Science City.
The exhibition, titled Coronavirus strikes again, had been going on since February 7. "It included an interactive element teaching the benefits of handwash in which glow powder was sprayed on visitors' hands, which were put under ultraviolet light, revealing the presence of germs. They were asked to repeat the exercise after washing their hands."
The authorities will put the shutdown period to good use. "Since we are open 364 days a years, except on Holi, we have to do all maintenance work at night. We can do that now," Chaudhuri said.
Last March, Science City had recorded about 120,000 visitors. With the launch of a new show called Time Machine, it was expecting increased footfall this month.
"But we realised it is not enough to increase awareness. We better stay closed till the situation improves," Chaudhuri said.
BITM had planned to open an outdoor exhibit called Magic Tap on Sunday but has now put the plan on hold, V.S. Ramachandran, the director, said. "We had even run the tests today. But we have to follow the ministry's order."
Planetarium
MP Birla Planetarium will remain shut from Monday. "Since the government has issued a blanket order for educational institutions, and we, too, are one, we decided to follow it," Debiprasad Duari, the director, said.
The planetarium had shut for half a day for cyclone Aila in 2009.
"This will be the longest enforced break since I joined in 2001," Duari said.
Sunday's shows will be held as usual.