North Bengal, Sikkim devise pandemic plan
The maximum number of Covid-19 cases have come from Malda district and the Siliguri subdivision of Darjeeling district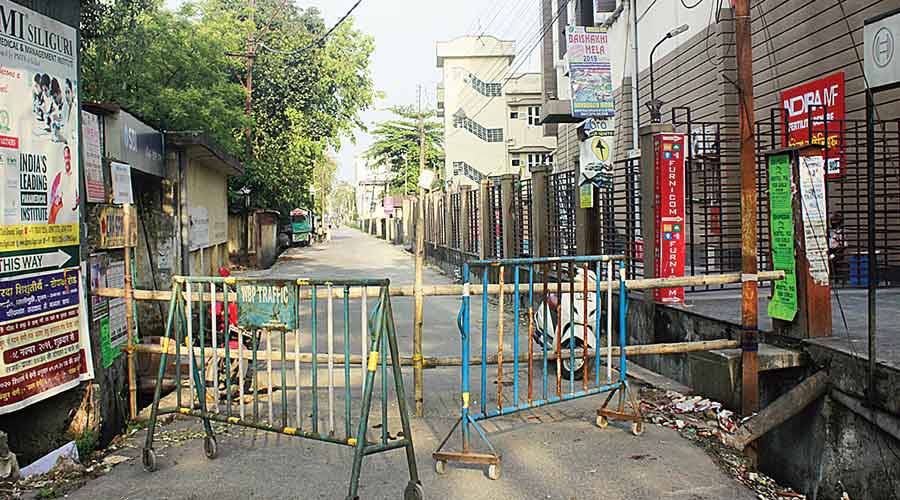 In Siliguri sub-division, the tally is close to 700
File picture
---
Siliguri
|
Published 12.07.20, 02:20 AM
|
---
Rising Covid-19 cases across north Bengal and in neighbouring Sikkim have made the authorities of the two states draw up a fresh series of plans to curb the spread of the pandemic.
In north Bengal, the maximum number of Covid-19 cases have come from Malda district and the Siliguri subdivision of Darjeeling district.
In Malda the tally has crossed 1,000. In Siliguri sub-division, it is close to 700.
"Cases have been reported in other districts too but over the past 10 days or so, most of the new patients are from Siliguri and Malda. Every day, 30 to 40 patients are being found in these two places," said an official of the state health department.
In Malda, the administration has clamped a lockdown in three police station areas from Tuesday, a day before it was enforced in the broader containment zones in all districts of Bengal.
In Siliguri, the lockdown has been enforced in nine zones from where most of the infections have been reported.
However, even after the lockdown, the number of cases is steadily rising. On Saturday, over 40 new cases were reported from Malda and 39 new cases from Siliguri and nearby areas.
Also, three persons, among whom two tested Covid-19 positive and one was suspected have been infected, have died in Siliguri during the past 24 hours.
The Telegraph takes a look at the new arrangements in north Bengal and Sikkim to tackle the pandemic
Private practitioners
A team of eight senior specialist doctors of Siliguri, who are private practitioners, has been formed to help in the treatment of Covid patients in the city. They include an endocrinologist, a neurosurgeon, a critical care specialist, a physician, a psychiatrist, a cardiologist, a neuro-physician and an orthopaedic surgeon.
"We have requested these doctors for help. They have assured us of their help without any charges," said Sushanta Roy, the officer on special duty deputed by the state health department in north Bengal
Sample collection van
In Siliguri, a mobile facility to collect swab samples of suspected patients, especially senior citizens, has been introduced. A van with trained health workers visits the homes from where samples are to be collected.
The Siliguri Municipal Corporation has also planned to a standby ambulance for Covid patients after reports that some patients could not find a vehicle to reach the hospital after they tested positive.
New contain zones
Darjeeling district administration marked two more containment zones on Saturday   with lockdown from Sunday morning. As of now, nine wards were marked as broader containment zones in the city.
One new containment zone is the entire stretch of Nivedita Road (around 2.5km), from Champasari More to Gurungbusty, covering wards 2 and 3.
The other new containment zone is the road connecting Bagrakote with Court More, covering areas of wards 18 and 20. 
Rapid tests
In Sikkim, chief minister P.S. Tamang (Golay) inaugurated a rapid antigen testing facility on Saturday in Rangpo, one of the major transit points of the state in the east district. 
So far, 121 positive cases have been reported in the scenic Himalayan state since the onset of the pandemic.
A rapid antigen testing kit gives result in less than 30 minutes unlike the most commonly used real-time polymerase chain reaction (RT-PCR) test for Covid-19 which takes anywhere between four to eight hours.
Officials of the Sikkim state health department said that if a person tests negative through antigen testing, he or she would still need to get an RT-PCR test done for added confirmation. However, if a person tests positive for Covid-19, the confirmatory RT-PCR is not required.