Covid-19 death hits paddy harvesting
Farmers of containment zone near Arambagh suffer without workers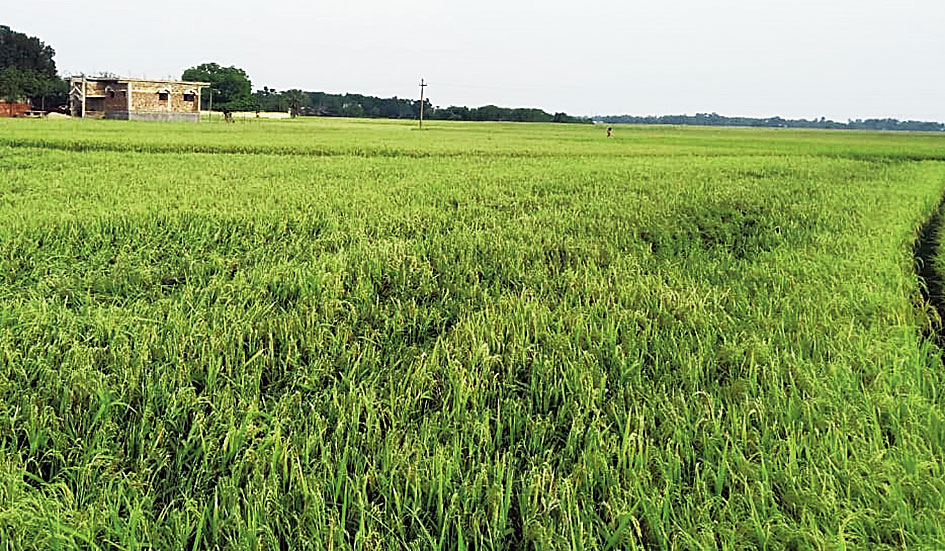 ---
|
Arambagh
|
Published 05.05.20, 09:10 PM
---
The scare over Covid-19 has slammed the brakes on harvesting of paddy in around 300 acres at a Hooghly village and thereby casting a shadow of uncertainty over the livelihood of about 160 farmers.
The trigger behind the scare is the death of an elderly woman, who was tested Covid-19 positive last week, following which the area became a containment zone and agricultural activities came to a halt.
Following the death of the woman, 65, her family members were sent to home quarantine and as they collectively own more than 30 acres at Dadanpur, a small village adjacent to Arambagh town, they are feeling the pinch.
"Ripe paddy ready for harvesting on the field, but we can't harvest as we are quarantined… We are worried as the harvesting time is passing by. Workers from other villagers are not coming as it's a containment zone. Besides, those who rent out harvester machines are also refusing this time," said a farmer and nephew of the woman who had died of Covid-19.
According to him, he contacted local block development officer of Arambagh, Bishakh Bhattacharya, and chief of Trinamul-run Tirol gram panchayat Sukur Ali personally to help the family in harvesting their crop, but the problem hasn't been solved.
"The BDO asked us to write a letter about the problem and send him through WhatsApp. The panchayat chief did not respond despite several appeals. Other farmers at the village are also suffering as harvesting has stopped," he said.
Farmers said the harvesting time started from the third week of April but this time it was delayed because of sudden rain and the process of harvesting, which had just started, was stopped after the woman died of coronavirus.
The panchayat pradhan, Sukur Ali, said he was also a victim as he couldn't get his produce harvested as the administration had asked to keep the entire panchayat area under containment.
"I know about the problem as I am one of the sufferers. No one is ready to work for us. What can I do?" said Ali, the panchayat chief.
The BDO Bhattacharya did not respond to several calls.
Nripendra Singh, the SDO of Arambagh, said he had already asked the BDO to arrange a harvester machine. "BDO is arranging for a harvester and the problem would be resolved soon," said Singh.