Crisis hits govt bond with rakhi makers
Authorities yet to issue any direction on how the festival would be observed in a pandemic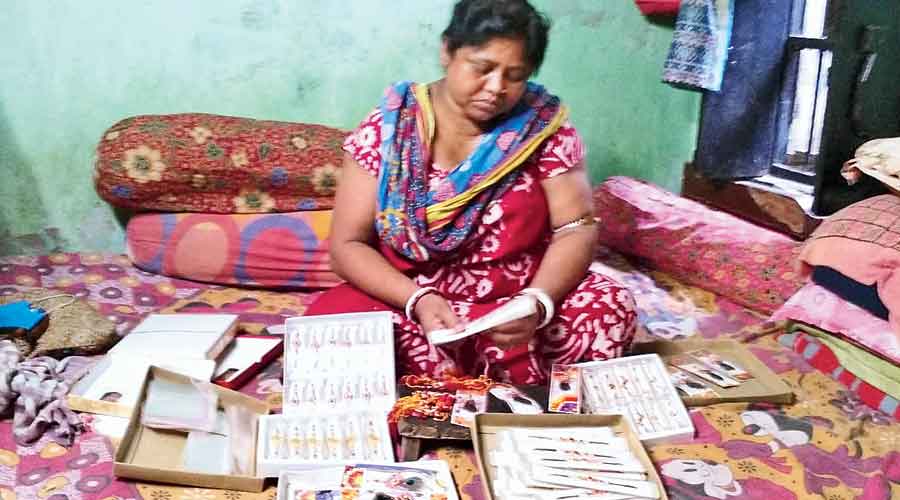 Rakhis being made in Kalna
Dip Das
---
Burdwan
|
Published 01.08.20, 02:00 AM
|
---
At least 30,000 women artisans associated with manufacturing of rakhi in East Burdwan's Kalna are going through a rough patch as orders from customers in Bengal, including the state government, and outside have dropped drastically because of Covid-19 outbreak this year.
As the festival celebrates the spirit of brotherhood, Rabindranath Tagore had used the occasion to protest the Partition of Bengal in 1905 by tying rakhis to convey the message of unity among Hindus and Muslims.
In the face of massive protests, the British rulers had to revoke the decision six years later.
As the country prepares to celebrate Raksha Bandhan on August 3, Covid-19 has robbed rakhi manufacturers in Kalna of their smiles this year.
Kalna is known as a rakhi hub in Bengal as there are at least three big and 20 small clusters associated with making rakhis and supplying those in Bengal and outside.
Several clusters and manufacturers of rakhi in Kalna said they had to stop manufacturing the decorated strings after countrywide lockdown was announced in March and several agencies that used to place orders with them started to cancel their bookings.
Kalna Weavers and Artisans Welfare Society, which consists of around 300 women artisans, used to supply around 6.4 lakh rakhis to the government of Bengal but this year, no order has been given so far.
"For the past few years, the state government has been placing orders for over six lakhs rakhis. But this year, we did not get any order. As a result, the artisans are also suffering," said Tapan Modak, secretary of a rakhi cluster.
Sources have said several clusters usually start collecting raw materials to manufacture rakhis in December every year and the production gathers space after April. As the lockdown was declared at the end of March, all the clusters had to close their production apprehending a fresh loss amid the pandemic.
A major chunk of the livelihood of the 30,000 women working in Kalna's rakhi-making industry evolves around the Raksha Bandhan festival. For the rest of the year, many of them are engaged in making wristbands and junk jewelleries, businesses that have also been hit by Covid.
"Like every year, we had started manufacturing rakhis in December but after March, we did not get any order from the clusters. I used to earn around Rs 50,000 in this season by making rakhis. This year
I have hardly managed to make Rs 7,000 so far," said Sangita Banerjee, an artisan in Kalna.
Sangita, who lives with her widow mother and a niece, is the sole bread earner of the family.
The demand for rakhis shot up after the Mamata Banerjee government started observing the festival to celebrate the brotherhood cutting across religious lines. Several officials said the state government was yet to issue any direction on how the rakhi festival would be observed in a pandemic.
"If we want to tie rakhi, we need to come in close proximity to the person. We are avoiding such contacts this time. So, there is no chance to observe the festival this year," said a district magistrate in south Bengal.