Crackdown on Santipur lockdown violators
The police also shut down a number of standalone shops which were kept open beyond the permissible time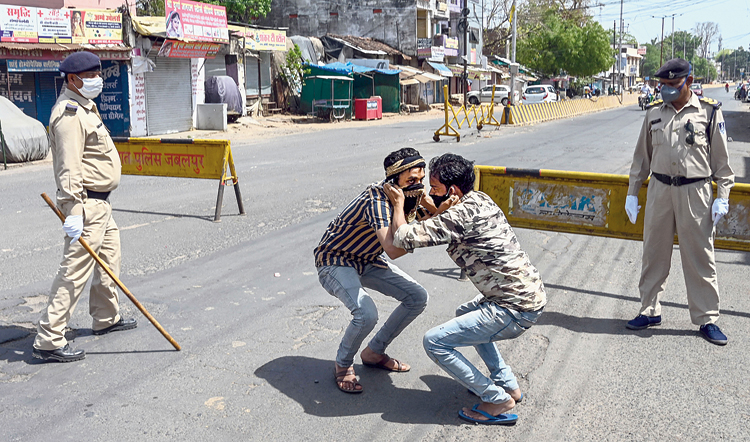 Policeman punishes offenders for flouting the lockdown norms in Jabalpur.
File picture
---
Santipur
|
Published 14.05.20, 08:38 PM
|
---
Police intensified patrolling and batoncharged lockdown violators in Santipur town where a ninemonthold tested positive for Covid19 on Wednesday.
The police also shut down a number of standalone shops which were kept open beyond the permissible time.
Sources said the police had to resort to batoncharge for dispersing crowds at Natunhat, Gobhavar, Daakghar More and near the public library and the railway station on Wednesday night. Several traders were warned against flouting the time schedule.
Superintendent of police of Ranaghat police district V.S.R. Ananthnag said: "People have been advised by police to stay home and avoid crowding. This is a common exercise and there has been no exception anywhere."
Several local residents welcomed the police action. "There are huge crowds at several places in the town. The police have done it right," said a resident of Sutragarh here.
An officer of Santipur police station said: "A section of the people and shopowners have been misusing the relaxation and exemption provided by the state government. They are crowding the roads exposing themselves and others to the novel coronavirus."
The state government on May 5 announced relaxations for various commercial and industrial operations in the state except for the containment zones. The order stated that all standalone shops selling both essential and nonessential items will be operational from 10am to 6pm across the state.
However, at many places shops are operating beyond 6pm.
"Even after a child tested Covid positive people are taking things lightly. The violators were thrashed while some shop keepers were cautioned for violating the state government's directives," a police source said in Santipur.