Railway confusion, travellers off track
57 passengers got off the Shramik Special at Durgapur, and 24 others refused to go beyond Asansol station, both technical stops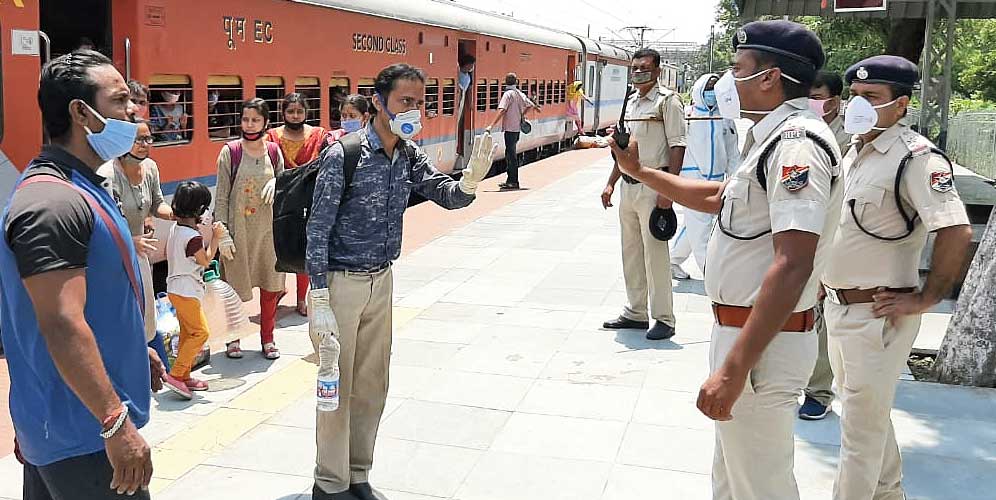 ---
|
Durgapur
|
Published 14.05.20, 08:36 PM
---
An apparent communication gap between two divisions of the railways about the final destination of a Shramik Special train bringing back people stranded in Bangalore to Bengal has led to harassment of several passengers who had tickets till Purulia.
This was revealed after 57 passengers got off the Shramik Special at Durgapur, and 24 others refused to travel beyond Asansol station, both technical stops, on Thursday.
Later in the afternoon, a few more passengers got off the train when it had made an unscheduled stop at Rampurhat in Birbhum. The Shramik Special had left Bangalore station on Tuesday and is scheduled to reach New Jalpaiguri (NJP) late on Thursday.
While South Western Railway officials in Bangalore had information that the train was travelling to Purulia and claimed tickets were issued to passengers accordingly, Eastern Railway officials in Calcutta said the Shramik Special train was bringing back people stranded in Karnataka and its end destination was NJP.
Railway sources in Calcutta contradicted the South Western railway officials and claimed that tickets for NJP had also been sold to passengers who had boarded the train in Bangalore.
A senior railway official in Bangalore told The Telegraph that the Karnataka government had asked for a train up to Purulia. "We were ordered to send a Shramik Special train to Purulia. So, the tickets will naturally show Purulia as the destination," said Krishna Reddy, public relations officer for South Western Railway.
"That apart, we have no control on trains once it leaves our division. I don't know why the train did not stop at Purulia," said Reddy.
Contradicting Reddy, a railway official in Calcutta said the plan to extend the train till NJP was taken much before its departure and as these were end-to-end services, the halt at Purulia was dropped.
The passengers, however, said they had not been informed that the train would not stop at Purulia. Railway sources added that extensions and route designs for Shramik Specials were done on the advice of the receiving state government, in this case Bengal.
The chief public relations officer of Eastern Railway, Nikhil Chakraborty, said: "The passengers were not supposed to get off at Asansol and Durgapur stations, but in coordination with the local administration and the state government they have been sent to their respective destinations (in cars) by maintaining Covid protocol."
When the 24 passengers, mostly residents of Purulia district, de-boarded at Asansol, the railway police and local administration insisted that they do not get off and travel instead to NJP. This led to an altercation, but later, the passengers were given food and sent to Purulia after medical examination.
"We have been travelling in the train with my physically handicapped son for over 36 hours without proper food and drinking water. We were supposed to de-board at Purulia but the train did not stop there. I will not board the train again and will sit here even if the police shoot me," said Mallika Khara from Howrah.
Tarun Kumar Pandit from Khardah in North 24-Parganas is a cancer patient. "I did not get food and drinking water throughout the 36-hour journey. The toilets were dirty and there was no sign of maintaining social distancing and hygiene."