1600km ride to meet ailing son
Mason quarantined after cycling from Chennai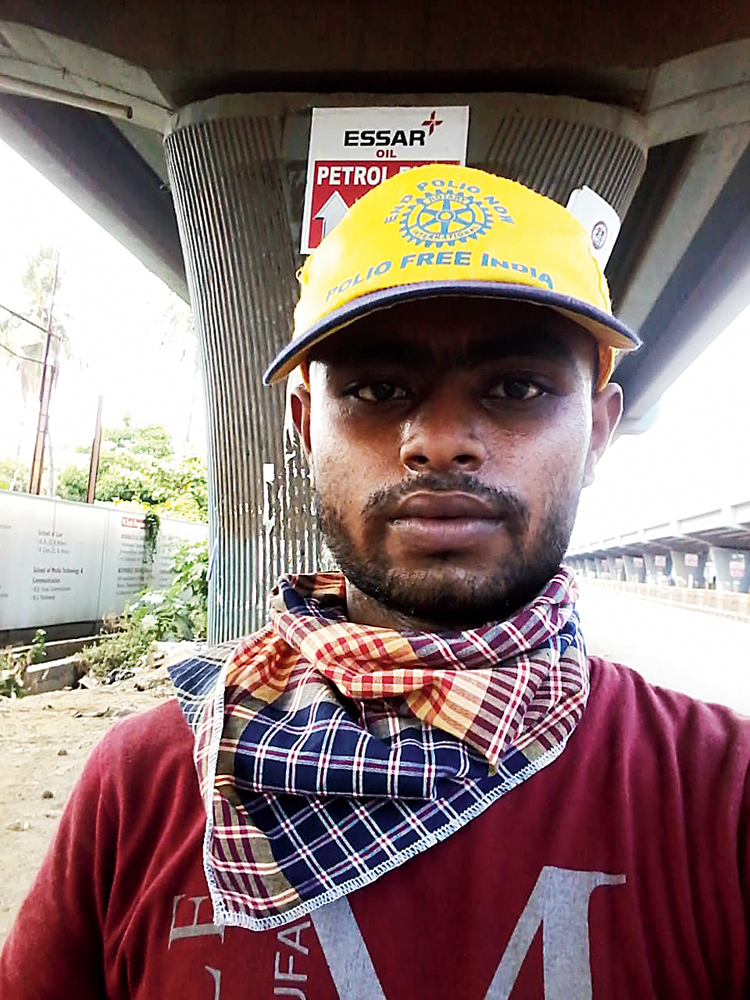 Bapan Bhattacharya
Telegraph picture
---
Haldia
|
Published 10.05.20, 09:32 PM
|
---
The extraordinary resolve shown by a 30-year-old migrant worker from Haldia's Chaulkhola area has added a heartening chapter to the otherwise grim plight of migrant workers that came to light across the country this week.
Bapan Bhattacharya, employed as a mason in Chennai, cycled over 1,600km in less than 10 days starting on April 29 after learning that his four-year-old son was to undergo surgery for meningitis at the NRS Medical College and Hospital in Calcutta on May 1.
"My son relapsed with meningitis around April 22, after which I was in touch with my husband. Finally, after significant deterioration, my mother and I rushed my son to Calcutta. That is when my husband decided that he would set off on a bicycle against any odds," said Bhattacharya's wife Shahana.
Bhattacharya, who reached his in-laws' home in Chaulkhola near here on Friday night, has, however, been kept in mandatory quarantine in Haldia after undergoing necessary tests to detect if he is afflicted by the novel coronavirus.
"Neighbours raised an alarm after they spotted him on Friday night. We had to call police to control the situation," said local Chaulkhola panchayat member Rizwanur Rahman, who felt Bhattacharya's return deserved more compassion.
"But the neighbours treated his return like he was a criminal," he added.
Shahana, who lamented on Sunday about her husband's inability to join her in Calcutta despite his Herculean ordeal, made an appeal to East Midnapore district authorities. "If he tests negative for Covid-19, please get him here safely. My son is in need of yet another surgery but there is a shortage of anaesthetists for the operation," she said.
Speaking over the phone, Bhattacharya said it was sheer grit that had got him through the task of cycling nearly 160km a day without guarantee of food or shelter.
"Most nights I made use of the off-lane at a dhaba or the threshold of a temple. Fortunately, some police officers gave me food after hearing of my ordeal and seeing the pictures of my son's surgery on my phone," he said, adding that his toughest trial was near the Odisha-Bengal border, where he walked 5km along railway tracks at night to bypass a rigorous police checkpoint.
A well-wisher in Chennai had loaned him his bicycle in addition to money. Fortunately, the bicycle needed minor mechanical issues which were solved at a few repair shops on the way.
East Midnapore district police authorities said they were aware of the mason's situation and would attend to Bhattacharya after test results came in.
"If he tests negative, we will certainly help get him to his son and wife," said sub-divisional police officer (Haldia), Tanmay Mukherjee.