Applications for travel nod mount
Surge in pleas for permission to reach relatives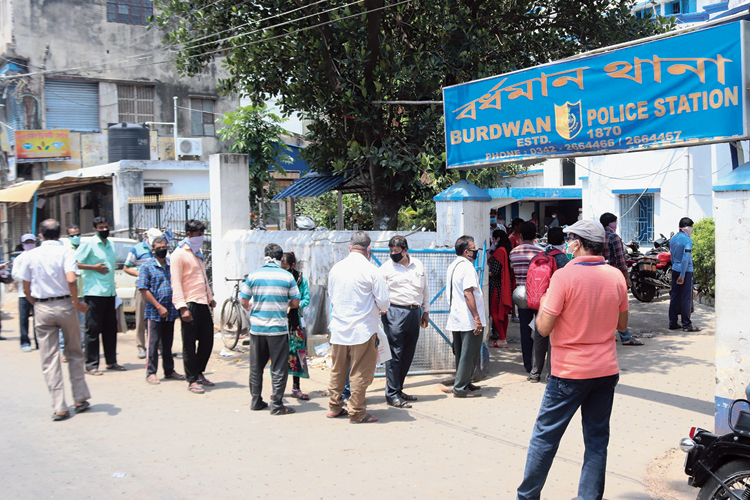 ---
|
Burdwan
|
Published 12.04.20, 08:41 PM
---
The extension of the lockdown till April 30 has provided police with a new job — handle hundreds of applications for permission to travel.
While the applicants were few and far between till Saturday, police stations at several places in south Bengal saw a massive surge on Sunday.
The reasons cited for the applications ranged from elderly parents' illness to wish to be at the side of a pregnant wife.
Chief minister Mamata Banerjee had on Saturday said the lockdown would be extended up to April 30 but there would be a human face to it.
Niladri Haldar, a resident of Golapbag in Burdwan, was in the queue on the premises of the Burdwan police station on Sunday.
"My wife and child have been stuck at Shyamnagar in North 24-Parganas since the lockdown started. They had gone for treatment and are at a relative's house. I want permission to get them back here," said Haldar, a businessman.
Like Haldar, many others were found queuing up at various police stations in the districts of Bankura, Birbhum and Hooghly on Sunday to seek permission for travel.
"We thought the lockdown would be over after April 14 and I could move to Calcutta to look after my elderly parents. But it is clear no one knows when the lockdown will be withdrawn. So, I have come to seek permission for travel," said a high school teacher in Birbhum's Bolpur.
Police officers said they were giving permission depending on the state of emergency. People who have an medical emergency to attend to or have suffered bereavement got the nod to travel. "We are deciding on case-to-case basis. We are allowing only those who have genuine reasons to travel," said Bhaskar Mukherjee, East Burdwan police chief.
Amrita Majumdar, an assistant professor of Music at Bankura Zilla Saradamani Girl's College, is in trouble as her elderly parents live alone in Malda and her mother needs treatment.
"I need to travel to Malda as my mother needs a check-up immediately. I have booked a car and can only move if I get permission," she said.
Bankura police chief Koteswara Rao said: "We are allowing only those who have medical emergency."