Cop hit on eye in BJP-TMC clash
Saran Pradhan, the ASI at the Dhupguri police station, was admitted to a private nursing home in Siliguri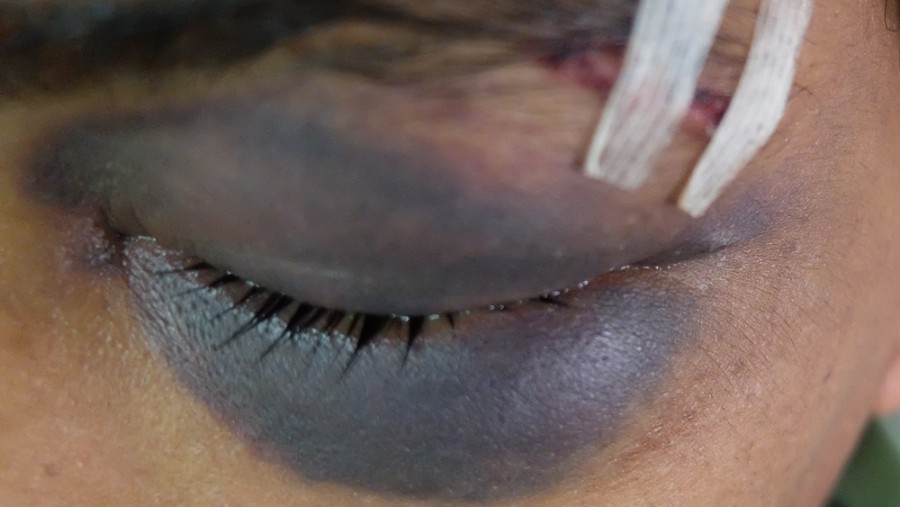 ---
---
An assistant sub-inspector of police suffered serious injuries to the left eye when he was hit with a brick during a clash between BJP and Trinamul Congress supporters near the Jharalta 2 panchayat office in Jalpaiguri district on Thursday.
Saran Pradhan, the ASI at the Dhupguri police station, was admitted to a private nursing home in Siliguri with blood oozing out of the eye.
The clash broke out when BJP supporters took out a march to the panchayat office to protest against alleged anomalies in the selection of beneficiaries of a central housing scheme. As they reached in front of the office, an altercation took place between them and Trinamul activists present at the spot.
"Soon, the members of the two parties attacked each other with bricks, sticks and stones," said a source.
Dhupguri police reached the spot to bring the situation under control. One of the flying bricks hit the chin and the left eye of ASI Pradhan.
Seeing him bleeding, both the groups fled.
Biren Roy, a local Trinamul leader, said the BJP supporters had started the violence. "They attacked Trinamul activists and six of them were injured. The BJP workers also attacked the police," said Roy.
The BJP has denied the charges. "We were marching to the panchayat office to submit a memorandum. But some Trinamul supporters attacked us without any provocation," BJP leader Agun Roy said.
The police said they were trying to trace those who had attacked the ASI.
Threat to kill CPM 2
The CPM lodged a police complaint on Thursday after a handwritten poster was found on the wall of its office in ward 4 of Santipur municipality in Nadia district with a threat to kill two leaders unless they stopped visiting the office. The leaders are Bidyut Dutta and Amal Nandy.
The CPM alleged that the poster had been pasted by members of unauthorised Happy Club.